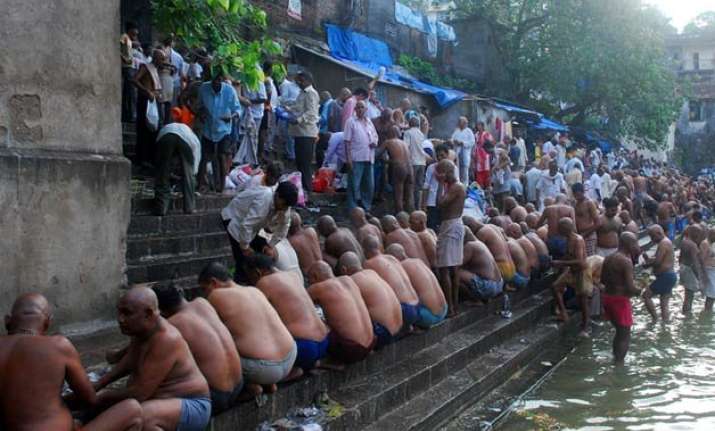 Pitru Paksha (meaning fortnight of the ancestors) is a 16-day period when Hindus pay tribute to their ancestors so that the departed souls can rest in peace.
The Shraddh ritual is performed on a particular day during Pitru Paksha based on when the ancestor died.
The final day of Pitru Paksha falls on October 12 this year on the day of Sarva Pitru Amavasya or Mahalaya Amavasya. On this day, the Shraddh can be performed for all ancestors irrespective of when they died in case one is unable to perform it on the specific day.
The Shraddh is usually undertaken by the eldest male member of the family. Although it can be performed at home, the most auspicious locations for it are Prayag, Varanasi, Kedarnath, Gaya, Rameswaram, Badrinath, Kapal Mochan, Seshambadi and Nasik.
A ring of kusa grass is worn by the one who performs the ritual. The shraddh takes place at noon and involves pinda daan, an offering to the ancestors of pindas (cooked rice and barley flour balls mixed with ghee and black sesame seeds).
The food offerings to the ancestors include kheer, lapsi (a sweet porridge made of wheat grains), rice, dal, the vegetable of spring bean (guar) and a yellow gourd (pumpkin). It is considered to be accepted when a crow, believed to be a messenger of Yama, comes to eat them.
The Brahmin priests invited for the ceremony are also offered the food on the occasion.
The origin of Pitru Paksha is associated with the character of Karna from the Mahabaharata. According to legend, when he died and reached heaven, he was offered gold and jewels as food. Karna asked Indra why he was being denied real food. Indra replied that while Karna had donated gold all his life, he had never offered food to his ancestors.
Karna, who was adopted as a child, said that this was because he was unaware of his ancestors. To make up for it, he was allowed to return to earth for a fortnight to perform the necessary rites. This period came to be known as Pitru Paksha.   
Pitru Paksha is considered to be an inauspicious period because it involves homage to the dead. Devout Hindus refrain from purchasing luxury items at this time of the year. Companies dealing in high end goods and real estate usually see a decline in business during this period.