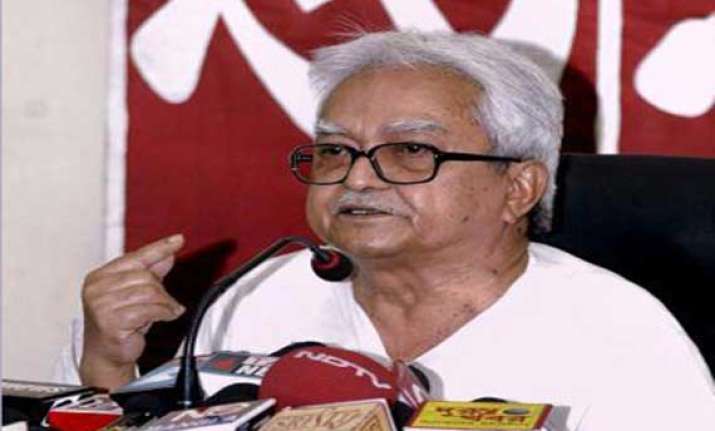 Kolkata : With his party coming under fire following some derogatory comments made by a leader at an election rally, CPI-M West Bengal unit secretary Biman Bose Tuesday called for restraint in canvassing and urged campaigners to desist from personal attacks.
"We have to maintain restraint in our use of language, we should shun personal attacks, we should sharply put forth our views in public meetings," Bose said at the state committee session of the Communist Party of India-Marxist (CPI-M) held here during the day.
Bose's comments came three days after former minister and Marxist leader Anisur Rehman drew flak from all corners for his allegedly offensive remarks against Chief Minister Mamata Banerjee, her ministerial colleagues and actor turned Trinamool candidate Moon Moon Sen.
Addressing a public meeting at Rampurhat of Birbhum district Saturday, Rehman, apart from his attack on Banerjee, had described state ministers as "lambs who can't even marry without permission", and remarked that Sen was "foraying into politics to make money as her films were not working".
Following a complaint from the Trinamool, the Election Commission was looking into Rehman's speech, while the ruling party has given a notice of privilege against him to the state assembly speaker.
CPI-M sources said the party has ticked off Rehman, who has been asked not to speak in public meetings ahead of the general elections.
Speaking at the state committee meeting, Bose called for an intensive campaign, with emphasis on reaching every family. "Village meetings, informal discussions should be the main line of canvassing."
Instead of unilateral speeches, importance has to be given on listening to the people and having dialogues with them," he said, according to a party release.
Bose alleged that democracy was under threat in the state, and the coming Lok Sabha elections was linked to restoration of democracy and protection of people's rights.
The party alleged that the ruling Trinamool was trying to put impediments in the Left Front campaign.