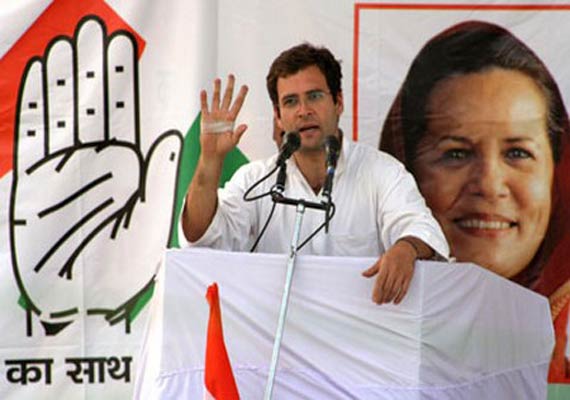 Etawah, Feb 19 : Wooing voters in Mulayam Singh Yadav's home turf, Congress leader Rahul Gandhi on Saturday  targeted both the SP chief and BSP supremo Mayawati alleging they had done nothing for development of Uttar Pradesh.

Addressing an election rally at the exhibition ground, he asked the electorate to shun "Cycle" and "Elephant", poll symbols of SP and BSP respectively, and vote for Congress for rapid development of the state.

"In the past 22 years, Mulayam Singh Yadav has been Chief Minister three times and Mayawati four times. What have you got?" the Gandhi scion asked the voters.

"They will come to you only at election time and make tall promises," he said.

Referring to Mulayam, Rahul said "you go to any election rally of his and tell him that you do not like the colour of the sky and want it to be green. Within two minutes he will promise this.
He will say whatever you want him to say." The people of the state had got entangled in the circle of "Cycle and Elephant" and they should get rid of this, the Congress general secretary said.

Recalling the success story of his party in the 2009 Lok Sabha election, he said it got 22 seats and people would give 40 in 2014 as the Congress was working for welfare of all sections of the society.

On the Muslim reservation issue, Rahul said Mulayam, who had termed the proposed 4.5 per cent quota for minorities as inadequate, did nothing when he was the Chief Minister.  Rahul Gandhi said he would continue to raise his voice for the poor and deprived.

His visits to villages had been dubbed as drama as some leaders feared he would take their voice to Lucknow and Delhi, the Congress leader said.

"I will take the voice of all sections and castes to the top," he said adding he would never make a false promise.

Accusing the BSP government of massive irregularities, Rahul reiterated his charge of "Elephant eating thousands of crores of funds meant for central schemes".