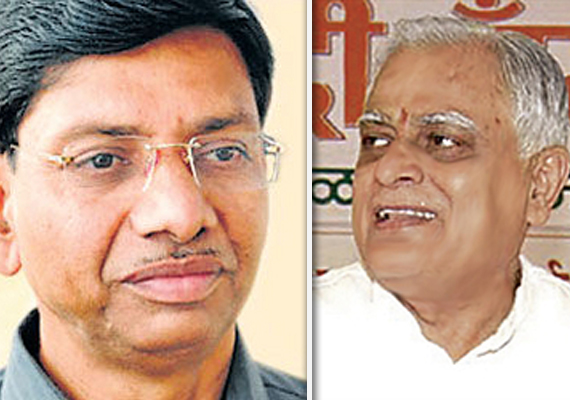 Jalgaon (Maharashtra), Mar 11: Local Shiv Sena MLA and former minister Suresh Jain was arrested late Saturday night in connection with the 2006 Gharkul Housing scheme scam, police said.

Jain, Shiv Sena MLA from Jalgaon, was arrested at Dharangaon late last night  while he was proceeding to his brother-in-law's place in Indore. He was produced in the court in the afternoon and sent to police custody. Jain was arrested for allegedly favouring a builder, police said.

Meanwhile, BJP leader in Legislative Council Vinod Tawde today demanded the arrest of state Transport Minister Gulabrao Devkar, who was Nagarpalika chairman in Jalgaon during the housing scam.

Devkar is a co-accused in the case with Suresh Jain, and was interrogated by police last month.

After the housing scam broke in 1999, a complaint was filed against Suresh Jain, Gulabrao Devkar and 90 councillors.

Suresh Jain has won 9 times from Jalgaon since 1980 on Congress, Shiv Sena, and  NCP tickets. Jain had to leave ministership in 2003 when Anna Hazare sat on fast against four ministers including Jain.

Shiv Sena leaders today maintained a conspicous silence over Jain's arrest.

As per preliminary investigations, Jain had indulged in irregularities to the tune of Rs 29 crore and had favoured Khandesh Builders, a firm that was given a contract for constructing tenements under the Gharkul housing scheme, sources in the local crime branch said.

Tenders had been floated even before the land was acquired for the housing scheme, they said.

Former municipal commissioner of Jalgaon Pravin Gedam had registered a complaint in this connection in 2006. Police officer Ishu Sindhu was given the charge of the probe.

So far, four persons, including former mayor of Jalgaon Pradip Raisoni, director of Khandesh Builders Major Nana Wani, one Raja Mayoor and the former chief officer of Jalgaon Municipal Council PD Kale, have been arrested in January in this connection and are presently in Jalgaon jail.

Following the arrests, Suresh Jain had been quizzed for four hours on February 3 along with the district guardian minister Gulabrao Deokar.

Jain's arrest came after police acquired some case-related documents from the Housing and Urban Development Corporation Limited (HUDCO) office in Mumbai on Friday.

Out of the 5,000 tenements to be developed under the housing scheme on the outskirts of Jalgaon, only about 1,500 have been completed so far, the sources said.

Incidentally, Jain, who was a Minister for Housing in the Shiv Sena-BJP government in the 1990s, had filed a defamation case against social activist Anna Hazare, which is still pending.