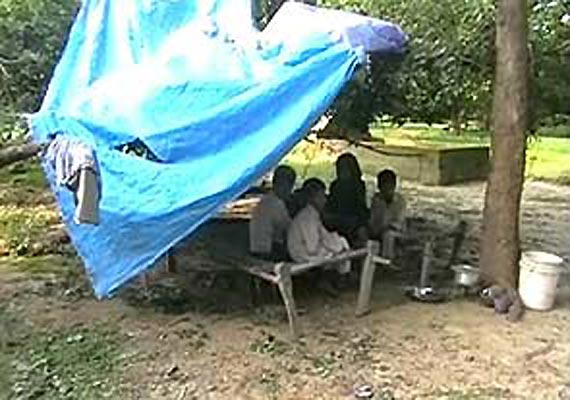 Pratapgarh (UP), Jul 27: Ostracised by their kin for fear of being infected by AIDS, five siblings, all minors, have been living under a tree for the last three years in a graveyard where their parents are buried Four brothers and their sister, whose parents had died of AIDS, had been driven out of their village by their relatives and were forced to take refuge near their graves in Lamuha village.
"Our father died of AIDS and our mother too was infected.  We used to live with our relatives in the village but they were so scared of the disease that they threw us out," said Mohd Irfan, one of the siblings, all in 7-17 age bracket.  
"Our father Bahajuddin was a truck driver in Gujarat and died of AIDS. Soon after this, our uncles spread canard that our entire family is inflicted by the disease and forced us out of the village," he rued.
Left shelterless, they took refuge there drawing comfort from the graves of their parents, using just a sheet of tattered tarpaulin to protect themselves from heat and rain.  
Coming to know of their plight, District Magistrate Vidya Bhushan visited the village and directed SDM Pratapgarh to provide them land for a house besides making other arrangements.
Police has also been asked to mediate in resolving the matter with their family members, the DM said, adding that blood samples of all five would be sent for medical examination and the siblings would be admitted to Kasturba Vidyalaya for education.
Uttar Pradesh Chief Minister Akhilesh Yadav, meanwhile, said he has directed the administration to shift the children to a government accommodation.
"I have asked the administration to immediately shift these children to the government guest house," he said.
"I am asking for bank accounts for these children and will deposit Rs one lakh in each account," he said, facilities under the Lohia Awas Yojna and BPL cards would be provided to them.