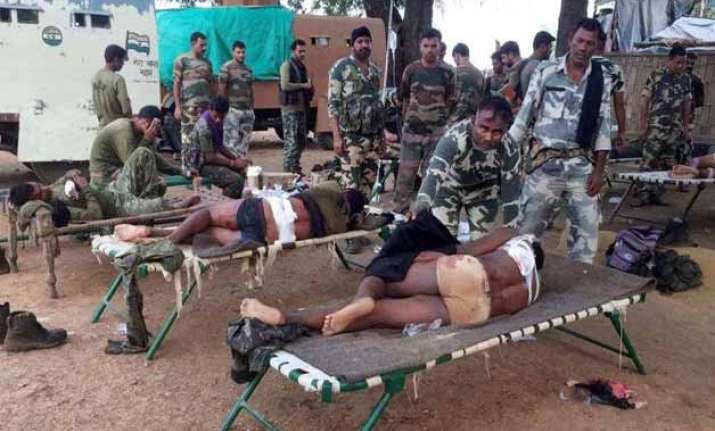 Raipur: Seven policemen were today killed and a dozen injured when Naxals ambushed them, triggering a gunbattle in the dense jungles of Maoist hotbed of Sukma district in Chhattisgarh.
The two-hour gunbattle took place in the wrst-affected Pidmel-Polampalli area of the district when a squad of state police Special Task Force (STF) was out for operations.
Officials said a group of about 300 Maoists opened heavy fire on the police team at around 9:15 am when it was conducting a search operation in the jungles of the district, about 390kms south of state capital Raipur.
"Seven of our troops have been martyred while about twelve injured in the encounter," Additional Director General of Police (Anti-Naxal operations) R K Vij said.
They said the 70 personnel strong STF squad was confronted with a volley of bullets in the jungles which is at the south axis of the Dornapal-Chintagufa area where several ambushes and killings of security forces had taken place in the past including the most deadly when 76 personnel were killed here in 2010.
Officials said a "good number" of weapons of the martyrs and the injured troops were looted by the Naxals before fleeing.
Officials said the encounter has hearlded the first major Tactical Counter Offensive Campaign (TCOC) operation which is conducted by Naxals to gain ground every summer.
Security officials engaged in anti-Maoist operationssaid TCOC in Chhattisgarh had begun in late March and this is the first big casualty on the forces' side.
Home Minister Rajnath Singh spoke to Chief Minister Raman Singh over phone who apprised him about the situation in Sukma.
"Extra CRPF teams have been rushed to the spot. I salute the bravery of our security personnel who laid down their lives while fighting the Naxals. I wish for speedy recovery of the injured," Rajnath said.
While an ALH-Dhruv helicopter ferried the injured jawans to hospitals in Jagdalpur and Raipur, the dead are expected to be flown tomorrow as bad weather and rains have restricted the movement of choppers in Kankerlanka where the bodies have been kept.
The killed and injured have largely sustained bullet injuries, officials said as they denied usage of Improvised Explosive Devices (IEDs) by the red ultras.
Two teams of the Central Reserve Police Force (CRPF), who have a camp nearby, were rushed to the ecounter site for assisting the police squad and launching 'cordon-and-search' operations, they said.
The killed policemen have been identified as Platoon Commander and Sub-inspector Shankar Rao, Head Constables Rohit Sodhi and Manoj Baghel, Constables Mohan V K, Rajkumar Markam, Kiran Deshmukh and Rajman Tekam.
Police officials suspect that the Maoist squad led by local leaders like Sonu, Nagesh and Hidma could be involved in the operation.