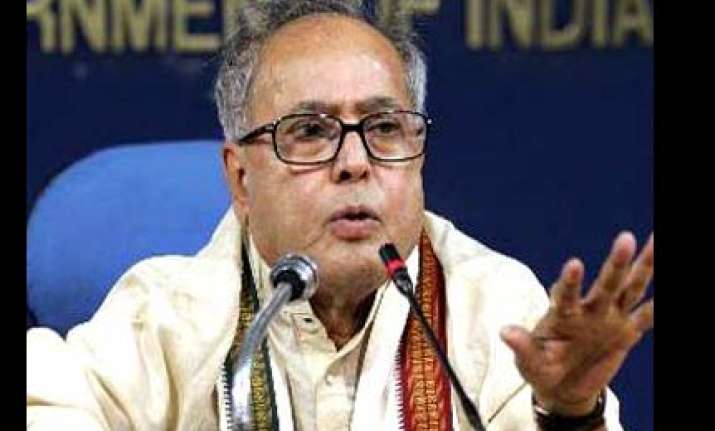 New Delhi, Oct 12 :  Industrial production growth rate nearly halved to a 15-month low of 5.6 per cent in August, pulling down the stock market by over 200 points, even as Finance Minister Pranab Mukherjee expressed disappointment at the factory output numbers.
The Index of Industrial Production (IIP) nosedived to 5.6 per cent in August, from 10.6 per cent a year ago, mainly on account of decline in output of capital goods, a sector which reflects fresh investments in the economy.
"(The trend is) a little disappointing. Let us see how it fares in annualised terms," Mukherjee said while reacting to the sharp decline in the industrial growth. The previous low of IIP number was recorded at 2.7 per cent in May 2009.
Capital goods production declined by 2.6 per cent in August as compared to an increase of 9.2 per cent in the same month of last fiscal. Manufacturing, which constitutes 80 per cent of the industrial ouptput, grew by 5.9 per cent against 10.6 in August 2009. The output of mining sector decelerated to 7 per cent from 11 per cent, electricity generation to 1 per cent from 10.6 per cent.
Soon after the IIP numbers, the BSE benchmark Sensex tanked by 225 points to 20,115. The deceleration in industrial output follows tightening of money policy by the Reserve Bank that has pushed up the interest rates for corporates.
Since January, in a bid to tame inflation, the RBI has raised its short-term lending (repo) and borrowing (reverse repo) rates five times prompting the commercial banks to hike interest rates.
The central bank will have to take a call on the key rates at its next monetary policy review on November 2. It will have to draw a balance between the need to check prices, as inflation is still high at 8.5 per cent, and push up economic growth.
Commenting on IIP number RBI Governor D Subbarao said, "We will study (IIP numbers). I cannot make a comment and numbers came when I was in a meeting (with Finance Minister)." The only sector that showed a positive trend in August was consumer durables which improved to 26.5 per cent from 24.7 per cent in August last fiscal.
Further, July IIP was revised upwards to 15.2 per cent from 13.8 per cent in the provisional estimates. Finance Secretary Ashok Chawla said, "It (the trend) is purely a cyclical movement. Sometimes it goes up, sometime goes down...We need to watch." PTI