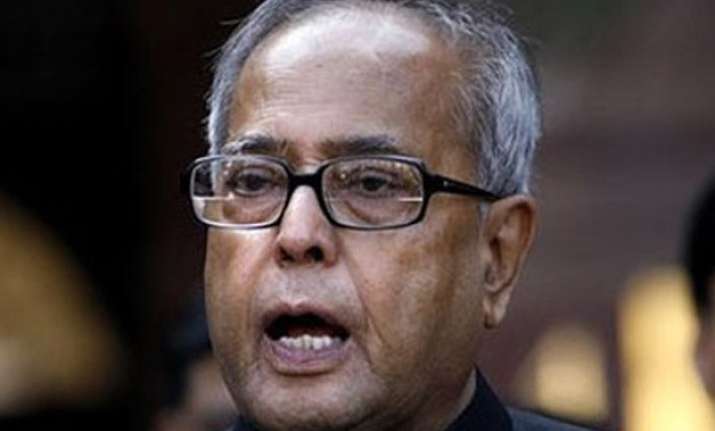 New Delhi : Warning that segmented approach by some countries to combat terrorism has failed, President Pranab Mukherjee has said that the scourge can be rolled back only through comprehensive, coordinated and international cooperation. 
Ahead of his first historic visit to Jordan, Palestine and Israel beginning on October 10, the President also said India is concerned about the "spill over effects of instability" in the Middle East Region, resulting in increased terrorist activities across the world, including in South Asia. 
Coming out strongly against countries which differentiate between good and bad terrorists, Mukherjee said segmented and partial approaches have not succeeded in countering terrorism. 
"India condemns terrorism in all its forms and manifestations...we believe terrorism should be dealt in a comprehensive manner. Segmented and partial approaches as adopted by some of the countries have been unsuccessful in countering terrorism," the President, who will be embarking on 
a six-day tour to the three countries, said. 
Mukherjee said, "The reality of global expansion of terrorism, including in Syria and Iraq and globalisation of the supply chain of terrorism is a matter of great concern to us. 
"India has faced terrorism for almost four decades, largely sponsored from across our border. We are concerned about the spill over effects of instability in the region resulting in increased terrorist activities across the world, including in South Asia," he said in an interview to 'Jordan Times'. 
India has sought to challenge and repudiate the terrorist narrative that global counter-terrorism efforts are directed against any particular religion or ethnic group. 
Mukherjee said India is convinced that terrorism can be rolled back only through "comprehensive, coordinated international cooperation combined with a strengthened,enforceable international legal regime." 
India, he said, has adopted a comprehensive approach to deal with the challenge of terrorism. He said several measures have been initiated to prevent the spread of extremist ideology, plug financing routes, build domestically a counter narrative to radicalisation, strengthen laws to prosecute terrorists and forge a network of international partnerships for threat assessment and operational cooperation. 
He said the global community needs to agree to a legal framework for diminishing and eventually defeating the scourge of terrorism. 
"It will be our endeavour to see that our core concerns are addressed during the fifth biennial review of the UN's Global Counter Terrorism Strategy scheduled in the 70th Session. It is essential to ensure that UN Counter Terrorism Mechanisms function in an objective manner and there is strict compliance by Member States with the UNSC Sanctions Regime," he said.