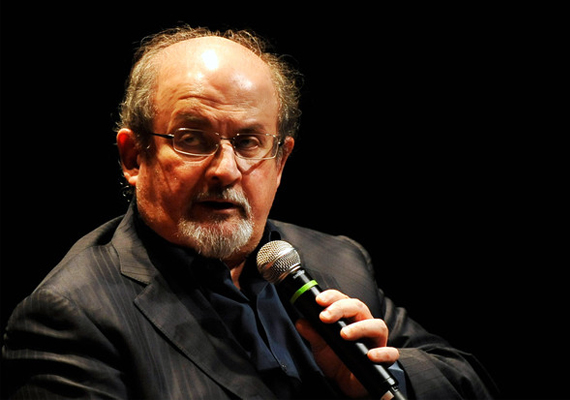 New Delhi, Mar 17: British author Salman Rushdie will speak at a conference in India on Saturday, organisers have confirmed, two months after protests by Islamic activists forced him to cancel a trip to the country.

Rushdie, who vowed to return to India when he pulled out of a book festival in January, will appear at the India Today Conclave in New Delhi despite continuing anger among Muslims over his 1988 novel "The Satanic Verses".

"Sir Salman Rushdie will be the gala night speaker tomorrow night," Aroon Purie, chairman of the India Today media group, told delegates on Friday.

Rushdie's speech, originally scheduled for Friday, was moved after the event's gala speaker, Pakistani cricketer-turned-politician Imran Khan, withdrew from the conference due to Rushdie's booking.

"The Satanic Verses" is seen by many Muslims worldwide as a blasphemous work that insults their religion, and the book remains banned in India, where relations between majority Hindus and minority Muslims have often been tense.

Khan has recently emerged as a major political voice in neighbouring Pakistan, and his refusal to participate in the same event as Rushdie has added to concern among liberal groups about his radicalism.

"We wish that Imran had used this opportunity to express his views here with all the force and lucidity he possesses," Purie said. "We can all agree to disagree but we must present our argument."

Mumbai-born Rushdie, a regular visitor to India for decades, withdrew from the Jaipur Literature Festival after Islamic hardliners threatened to disrupt the gathering and police told him that assassins were plotting to kill him.

He attacked the Muslim clerics behind the protests and also Indian politicians for failing to stand up to them.

"I will come to India many times... and I will not allow these religious gangsters and their cronies in the government to prevent me," Rushdie said in a television interview from London during the book festival.

The 64-year-old writer spent a decade in hiding after Iranian spiritual leader Ayatollah Ruhollah Khomeini issued a fatwa in 1989 calling for his death over "The Satanic Verses".

Indian Islamic groups have repeated their opposition to Rushdie visiting India, but declined to say whether they planned to protest at the luxury hotel where the conference is being held.

Event organisers confirmed that Rushdie would be appearing in person, not by video-link, to deliver his speech on "The Liberty Verses -- I am What I am and That's All That I am."