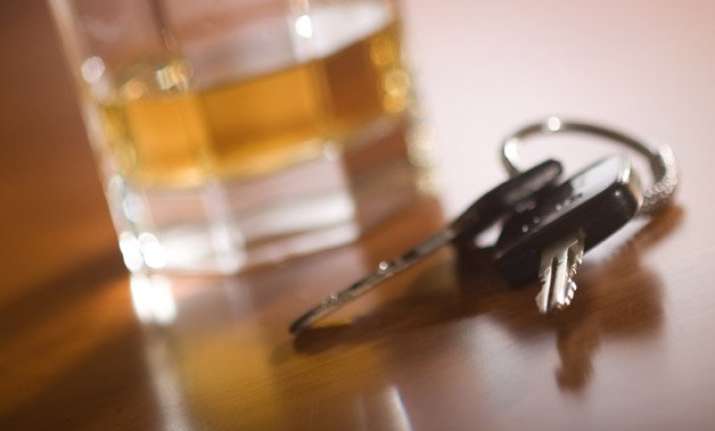 Mumbai: Urging the governments at the Centre and in Maharashtra to adopt a zero tolerance policy towards rising cases of drunk driving, the Bombay High Court today wondered why anybody who has had even little alcohol should be permitted to drive.
The matter came up when the court was hearing a petition seeking more compensation to be paid by Bollywood actor Salman Khan for the victims of the infamous 2002 hit-and-run case.  
"There is no reason why any person who has had any amount (of liquor) to drink should be permitted to drive at all," a bench of Justices Abhay Oka and Gautam Patel observed today.
"Given the alternatives available and having regard to mainfest risks, especially to third parties, we would strenuously urge adoption by the central and Maharashtra governments of a zero tolerance policy towards drunk driving," the bench said.
The court also termed as theoretical the provision prescribing limit of alcohol consumption for drivers under Section 185 of the Motor Vehicles Act. "We feel duty-bound to observe that these limits seem to us to be theoretical.
"Conditions in India are different than in foreign countries. Here people sleep on foothpaths and in some cases, pavements are absent. Besides, there is overcrowding of cars and the roads are narrow. Therefore, drunk driving cases should be taken seriously and stricter laws be provided to punish offenders," the judges said.
The judges were hearing a public interest litigation filed by journalist Nikhil Wagle seeking stricter laws and more compensation from Khan. The actor was acquitted by the Bombay High Court in the case last month.
Khan has deposited Rs 19 lakh as compensation to the victims' kin as directed by the HC nearly a decade ago, but Wagle's petition is still being heard after the court expanded its scope to include the issue of enhancement of punishment in such cases.
"We see no reason why police should be burdened with having to prove whether or not a person has consumed alcohol (beyond permissible limit)....mere presence of alcohol in blood should be, in our view, sufficient to disentitle from driving.
This, the court believed, would go a long way in ensuring safety on our roads apart from lessening the forensic burden on enforcement agencies.
The court observed that section 185 of Motor Vehicles Act which deals with drunk driving does not contain any provision whereby a state government can frame rules to provide for a stricter action. The Centre may consider allowing the states to prescribe zero tolerance norm or amend the MV Act, it said.
It asked the Maharashtra government to file an affidavit stating whether sufficient number of devices for conducting breath tests had been provided to police, and whether they were in working condition.
The judges also asked the state government to provide data of cases registered for drunk driving in the last three years, more particularly on December 31 and January 1, and the details of action taken.
The police's failure to follow the procedure while conducting blood test was a major issue in Salman Khan's case. The judges said the Centre and the state would file affidavits on whether they intend to frame rules for conducting breath tests, collection of blood samples and analysis of these samples.
The judges further sought to know whether the state government intends to set up forensic lab at every government hospital as well as the primary health centres near the highways for testing blood samples, and also whether it intends to set up mobile labs.
The HC asked the Maharashtra government to issue appropriate directions to ensure that driving licence is suspended immediately in drunk driving cases.
In the hearing after three weeks, the court said it may issue guidelines -- after going through the affidavits -- for the handling of drunk driving cases.
Regarding adoption of zero tolerance policy and amendment of laws to introduce stricter punishments, the HC gave six weeks to the Centre and the state to file their affidavits. The matter was posted to February 9.
The judges remarked that they were alarmed to note that only 705 cases of drunk driving were registered in Mumbai on the night of December 31, 2015, though the figure was 35 per cent higher than the previous year.
There was nothing to suggest what quantity of alcohol can be considered safe for a person who is going to drive, the court noted, contending that consumption of any amount of alcohol should be enough to disallow driving.
"We hasten to add there is no illegality attached to conducting of breath/blood tests merely because there are no rules (under MV Act). The necessity of having rules or guidelines is to ensure that authorities do not commit any errors because of which the accused can take undue advantage," the judges said.
The Centre had informed the court last month that it was considering a proposal to enhance punishment for drunk driving by amending IPC sections 304 A (causing death by negligence) and 279 (rash and negligent driving).
(With PTI inputs)