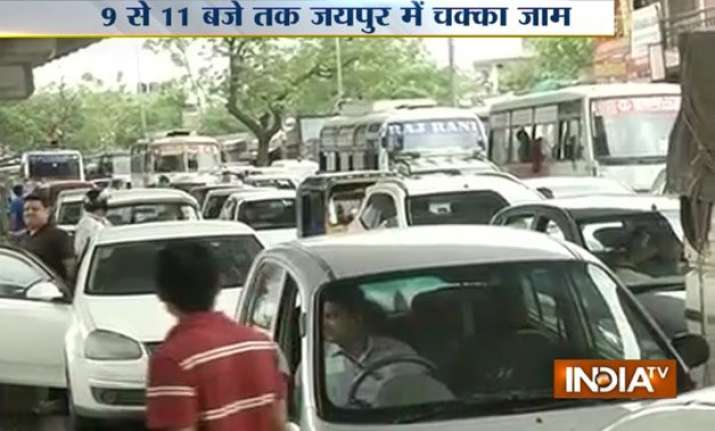 Jaipur: The Rashtriya Swayamsevak Sangh (RSS) today staged a 'chakka' jam here, demanding that temples which were shifted due to work of Jaipur Metro Rail and broadening of roads be relocated back to their original place.
"Barring emergency services, chakka jam was observed at 85 locations in the city as supporters and RSS sevak (activists) stopped the movement of all vehicles from 9 am", a senior official of Police Commissioner office said.
"So far it is incident free as many organisations were supporting the chakka jam," the cop said.
Office goers, however, had a tough time as they have to report to their offices at 9 to 10 am, while attendance in school was very thin as school buses avoided to run their vehicles as a precautionary measures, the official said.
The first hour of Chakka jam was a great success as people supported it, markets were remained closed and no vehicle was plying so far barring emergency services, Badri Narayan Choudhary, convenor of Mandi Bachao Sangarsh Samiti and senior RSS funtionary, told PTI here.
Over one hundred swayam sevak were deployed at 85 points in entire state capital to hold chakka jam, Choudhary said, adding Chakka Jam is for two hours from 9 am to 11 am to mark the protest.
BJP government was blamed for razing 73 temples in the name of development, cleaning obstruction of roads and Jaipur Metro Rail, he said, adding it was disastrous move as the entire government was sitting idle watching the temples shifting and razing, Choudhary alleged.
BJP's former spokesperson Kailash Nath Bhatt is also seen participating in the Chakkajam.
Meanwhile, the Jaipur district administration and police departments have deployed mobile Magistrates and extra forces respectively to maintain law and order, the official added.