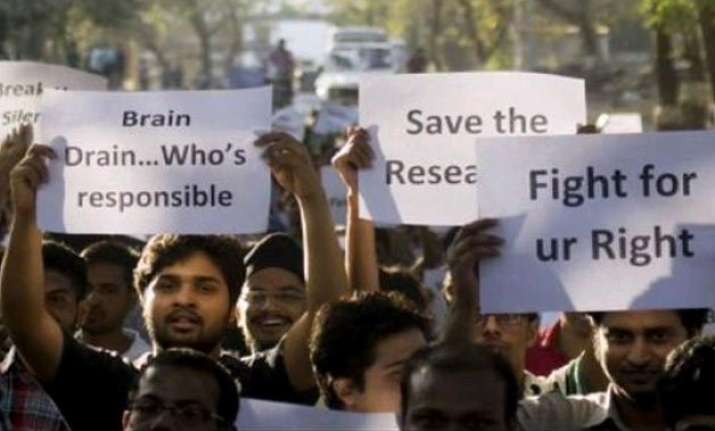 Bengaluru: Dissatisfied with the Centre for not fulfilling their demand for a hike in scholarship and fellowship stipends; the research students across India continue to carry out protests and hunger strikes across the country.
Another government announcement on Tuesday from Ministry of Human Resources added to their woes as the MHRD which disburses grants to nearly 50,000 scholars doing research in the fields of engineering, pharmacy, architecture etc, announced a 55% hike but it also said that it will be effective from February 1, 2015.
On the other hand, Department of Science and Technology (DST) had finalized an increase in stipends much earlier in October last year which ranged from 55% for Junior Research Fellows from Rs 16,000 to Rs 25,000 to 66% for research associates from Rs 24,000 to Rs 40,000.
Little later, in December, University Grants Commission (UGC) also announced a 55% hike in stipends of 15 fellowship schemes.
The research students, however, still continue to protest as the three main agencies that grant fellowship to scholars across the country are showing disparity in implementation of the hikes.
While DST and UGC have implemented the hikes from October and December respectively, the MHRD said it would give an increase starting February, this year.
The students expected DST and UGC to implement the hike from the starting of the financial year – April 2014 and MHRD to cover up where it lagged.
Reportedly, the notification issued by the HRD ministry announced the enhanced scholarship of 55% on Wednesday. As per the notification, scholarships for all scholars who are drawing fellowships from MHRD-affiliated bodies like AICTE, IIT's, NIT's, IIIT's, ISc, IISER, NITIE, Mumbai, ISM, Dhanbad, NIFFT, Ranchi, NERIST Arunachal Pradesh, SLIET, Longowal, SPA's and NITTR's have been revised from February 1, 2015.