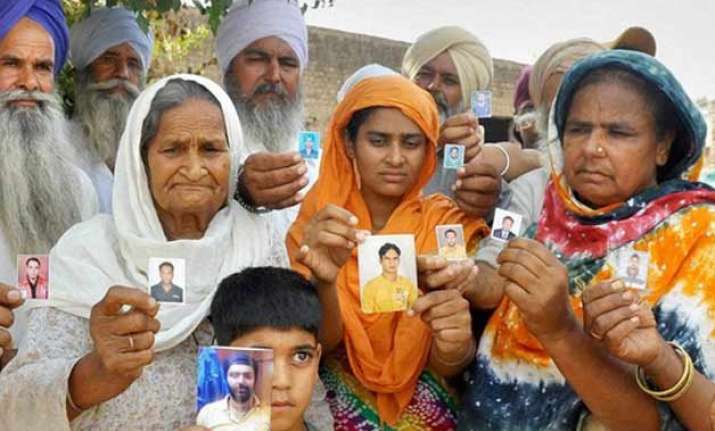 New Delhi: Relatives of 39 Indian workers abducted by ISIS in north Iraq in June 2014 are staging a Dharna at Jantar Mantar since last week in order to seek answers about the whereabouts of the captives from the government.
Last November, foreign minister Sushma Swaraj had said in the Parliament that "six different sources have informed the government that they have not been killed". However, the relatives of these workers after having met Swaraj and other top MEA officials on different occasions are now demanding "proper proof" and more detailed information of the captives.
One of them mentioned that they are demanding from the government to present Harjit Masih before them too. "If that is not possible, the government should at least issue a statement on him", said one Sunita Rani, a kin of a captive Gurdeep Singh who was among those kidnapped from the Mosul town.
Harjit Masih was the only Indian among the kidnapped who escaped the clutches of ISIS and is reportedly in government's custody in Iraq since then.
In the last few days, the relatives of the 39 captives have met several leaders including Union Minister Harsimrat Kaur, Sangrur MP Bhagwant Mann and Congress politician Ajay Maken.
Another kin of a captured, Parwinder Singh told that Maken even said that he would take up the issue in Parliament. His brother Kamaljit and two close relatives are among the captives.
Parwinder, who worked for Tariq Noor Al Huda, an Iraqi construction and trading firm of the Al Azawie Economical Group, the same company that the captives were working for, said, "We are being pressured by the government to lift the dharna. I don't know what we should do."
The relatives of the captured ones at Jantar Mantar, hailing from different districts of Punjab and Himachal Pradesh have distraught tales to tell. As told by them, there are others also, from Bengal and Bihar, who will join them and later this week all of them together hope to meet the foreign minister.
Last November, two Bangladeshi workers, Shafi and Hasan, speaking with a TV channel, said that masked militants holding pistols and Qurans in their hands separated the workers — 51 Bangladeshis and 40 Indians — into two groups. The terrorists quizzed them about their religious faith, they said. The two Bangladeshis were among those released later by IS. They said that Harjeet had told them about the Indians being taken to a hillock and shot. The government has dismissed Masih's version.