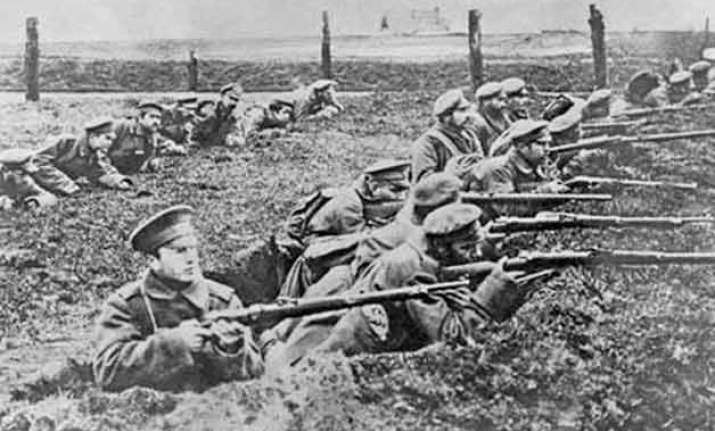 New Delhi: The contribution of over seven lakh Indian soldiers who participated in the First World War comes alive through several objects and rare photographs that displayed her in an ongoing exhibition.
A glimpse of the contribution made by the Indian soldiers during the First World War - one of the deadly wars fought in the history of mankind can be witnessed at exhibition - "India and the First World War" at Indira Gandhi National Centre for the Arts (IGNCA).
This exhibition which was inaugurated on January 13, displays more than 60 objects and 100 photographs of India's contribution in the First World War for the first time is open to public till February 13.
A world map where regions are marked where Indian soldiers participated in the war catches the visitor's eye right at the beginning of the show. Colourful posters encouraging Indians to lend gold, money for the war in regional languages provides a different perspective.
Organised in association with Roli Books, the French Embassy and IGNCA, the exhibition divided into sections like France, England , Germany, Mesopotamia and Middle East shows soldiers in action in these respective areas.
Paintings of gods and goddess drawn by soldiers stuck in the Prisoner of War camps are aesthetic while the utensils like 'Lota'(used for drinking water),'Thali' (dish) of different metals used by them are also at the display.
Medical Kit used by the Indian Medical Service, Military Motifs, card board boxes to keep watches, manual book for rules of shooting, badges of some Indian Corps and two Mess uniforms and turbans are also on display.
Dipali Khanna, Member Secretary, IGNCA says, "The Indian soldiers of World War I have not received the rightful share of acknowledgment or recognition of their valour as they fought under the British flag. Centenary is a right time to somewhat make amends."
Every image at this exhibition speaks a thousands words as these images an important aspect displays several sides of the Indian soldiers.
The images of marching of soldiers, performance for entertainment by them, soldiers recapturing at Brigton Palace converted into a hospital,surgeons and nurses treating them and the Neuve Chappel Indian Memorial have a story to tell each.
One can easily calculate the number of horses and mulls which also participated in the war through an image where Indian troops decamp at a location.
Pictures like the one where Indian troops are staging an attack, the one where Brigade Signal Section of Dehra Dun Brigade are at work and the one where sleepers for military railway are being laid keeps the visitor reminding of the immense work which Indian troops did all along the war.
The one image which attracts attention is of the group of Gorkha soldiers displaying their Kukris while two Gorkha brothers - one who lost his leg and one his hand – their images narrates the sacrifice made by Indian soldiers. In another image, the Indian Cavalry Brigade at work in France also thrills the visitor.
The image where Indian Corps Signals are installing telegraph lines at Merville in France shows communication techniques of the time. And the one where Jat soldiers are seen wrestling showcase their sporting skills.
There are images where wounded Indian soldiers are taken out in a motor ride, they are watching concert where Bagpiper is being played are also interesting to watch.
The middle section of this exhibition focuses on some of most courageous men from the soldiers who were awarded the Victoria Cross and a brief information on them increases our respect towards their fraternity.
Pramod Kapoor, Founder, Roli Books says, "This is a small tribute to 7 lakh Indian soldiers who crossed the seven seas to new lands and unfamiliar enemies, and to the 74,000 Indian men who laid down their lives over the four years of the War, "These images have been sourced from Imperial War Museum, British Library London, French Military Archives, and Flanders Museum, Belgium" says Kapoor.
According to him, "Apart from this, the objects are sourced from just one person, Dominique Faivre, who has been collecting these objects of the Indian soldiers from past thirty forty years."
It is believed that the service in the war was seen as a way to establish racial equality by proving that Indians were not lacking in courage and loyalty. It was simply 'Izzat' and sense of duty towards their regiment. They gave their heart and souls to achieve victory for their paltans.
Furthermore, the exhibition also has sound recordings and silent movies of the Indian soldiers made between 1914-1918.