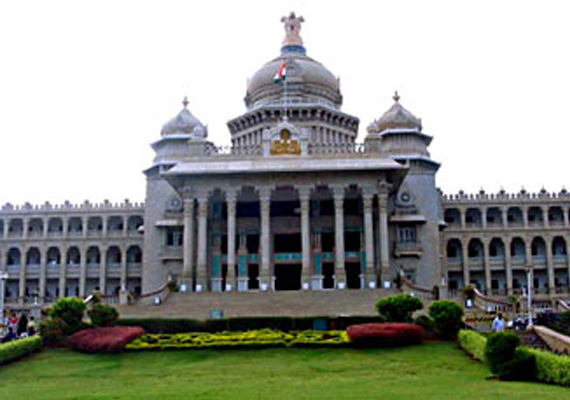 Mumbai, July 27: Senior Shiv Sena legislator Diwakar Rawate, who was suspended from the Maharashtra Legislative Council earlier yesterday for using unparliamentary language, tendered an apology this evening saying that he never wanted to hurt the sentiments of anybody.
The incident had taken place in the chamber of Chairman of Maharashtra Legislative Council, Shivajirao Deshmukh.     
"I stormed out with folded hands as there was nothing left for a discussion (on irrigation scam). I never used any unparliamentary language or hand gestures or body language," the Sena MLC said in a letter addressed to Deshmukh later.     
However, he added that "I don't mind tendering an apology to a senior leader such as you. I tender my apology." The meeting in Deshmukh's cabin was about the opposition's demand that a debate should be held on the multi-crore irrigation scam.     
"Rawate used unparliamentary language during a meeting this morning in the Chairman's chamber," Parliamentary Affairs Minister Harshavardhan Patil said, moving a proposal on the floor of the House to suspend Rawate. It was passed in the House following which Rawate was suspended till end of year.     
Later, speaking to reporters, Rawate had said he did not know why he was suspended. "Legislators from the treasury benches were creating noisy scenes in the House," he had said.     
Shiv Sena ally BJP alleged that the ruling Congress-NCP was suppressing the voice of Opposition.     
Talking to reporters, Leader of Opposition in Legislative Council Vinod Tawde said, "We have moved a no confidence motion against Chairman Shivajirao Deshmukh. The reason is not only the suspension of Rawate from the Upper House, but we were also unhappy about his previous rulings and decisions."
Tawde said the ruling parties led by NCP are not allowing a debate on the irrigation scam, as opposition had some new evidence against them.