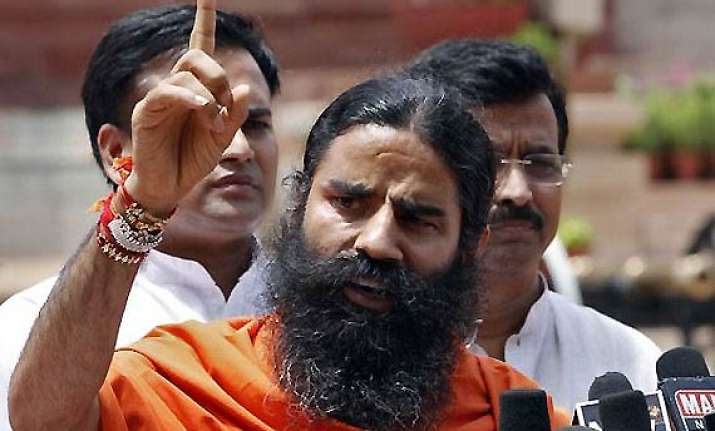 New Delhi, Nov 23: Yoga guru Ramdev today threatened to launch a nationwide agitation against UPA, starting from five poll-bound states, if it did not take "decisive" steps to bring the Jan Lokpal Bill and repatriate black money stashed abroad in the winter session of Parliament. 

In a letter shot off to Prime Minister Manmohan Singh, the yoga guru, who was bundled out of Delhi during his June agitation at Ramlila Maidan against corruption, underlined his demands and set a one-week deadline for being informed about the measures taken to address his concerns. 

He said he was demanding that the Jan Lokpal bill be passed in the Winter session and efforts be made to bring back black money stashed abroad. He also said there was a need for change in the system.

"If the government does not take important and decisive steps on these three issues in the winter session, then I will be forced to organise agitations in the five poll-bound states, including Uttar Pradesh, and later extend it to other parts of the country," he told reporters while releasing copies of his letter to the Prime Minister.

Ramdev said if the UPA failed to bring an effective anti-graft legislation, then he would launch a three-phased countrywide agitation from June 4, 2012. 

"In the first phase, we will conduct a referendum in the five poll-bound states after meeting the MPs and political parties and getting their views on black money, Jan Lokpal and change in the system," he said, adding that based on their views, a candidate would either be supported or opposed. 

He alleged that the government, through various sources, has received the names of 700 people who have illegally stashed black money in foreign banks but is unable to act against them or even reveal their names. 

The yoga guru charged that due to lack of political will, the UPA government has not been seeking information on black money under the provisions of Politically Exposed Persons Act, as including India 204 countries have accepted corruption and money laundering as a crime.

"Perhaps they are afraid that if they ask for such information then half of the people in the government may land in Tihar," Ramdev said, adding people of Nigeria, Libya, Egypt have asked about the black money of their ruler under this provision and we have seen the result.

When asked why he was following Anna Hazare's footsteps like boycotting the Congress candidate in recent bypolls, he said, "Anna Hazare is very senior and we have been together in the fight for Lokpal bill. I was first person to second the draft Bill. There is nothing to compare with Anna Hazare."

Asked about how he would pressurise the government when it was not giving him any credence, Ramdev said only Congress party was targeting him or Hazare, not its allies.

"When one of their leaders says that the money meant for development does not reach the beneficiaries, he should be asked why as out 65 years of India's independence they have ruled for almost 55 years, then who should be blamed for the present situation," Ramdev said in an apparent reference to Rahul Gandhi's speeches in poll-bound Uttar Pradesh.