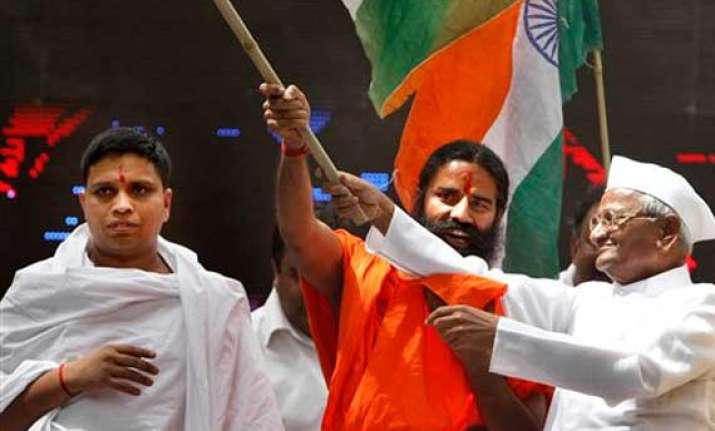 New Delhi, Jun 3: As Arvind Kejriwal made an abrupt exit from the joint fast venue after Ramdev objected to personal remarks against politicians, the yoga guru today said he wanted to run his movement with dignity and not to divert focus from the issue by targeting individuals.
"Hum shaleenta se aandolan ko aage badhana chahte hai. Hum kisi ka nam lekar aandolan ko muddo se bhatkana nahi chahte hai. (We wish to run the movement with dignity. We do not want to take names and divert the attention from the issue," he said in a statement here tonight.
His remarks came as Team Anna member Kejriwal left the dais of the joint fast by Ramdev and Anna Hazare here this afternoon.
During his speech at Jantar Mantar, Ramdev had downplayed the incident.
Virtually snubbing Arvind Kejriwal, Ramdev disapproved of his comments against Prime Minister Manmohan Singh and other politicians during his fast along with Anna Hazare saying he was against personal criticism.
Soon after Kejriwal, who was on fast along with Anna Hazare and the yoga guru, finished his speech, Ramdev took the microphone and said, "Today, we thought that we will not take anybody's name. But Arvind took the names."
"We don't want any controversies. Arvind does not have any enmity with anyone. The names have been taken in some context. We are against personal criticism", he said.
Ramdev claimed that the understanding was that they will not take names to ensure that the focus on the issue is not diverted.