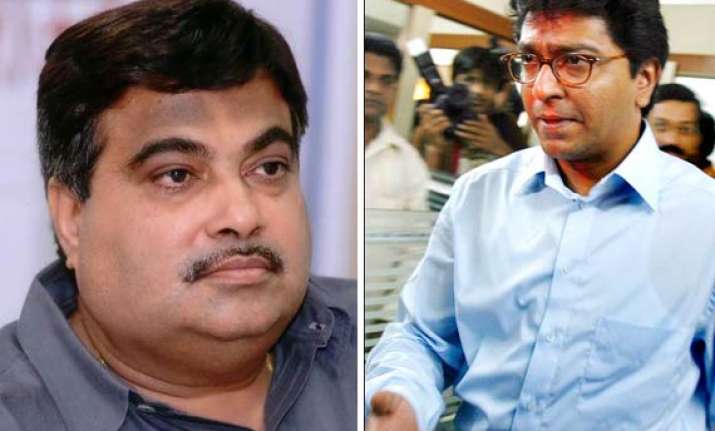 Mumbai, Dec 19 : Maharashtra Navnirman Sena (MNS) chief Raj Thackeray today said he would meet BJP president Nitin Gadkari over the state's long standing border dispute with Karnataka.

"I will personally meet BJP president Nitin Gadkari on December 21 over the issue in Nagpur. I am also ready to meet the Chief Minister of Karnataka," he told reporters here after meeting a delegation of Maharashtra Ekikaran Samiti (MES). 

Taking potshots at the rival Shiv Sena, Raj said had the party pressed for demand when the NDA was at the Centre, the issue would have been resolved by now. 

"I don't know whether it will be resolved now. I have no idea," he said.

Lawyers appointed by the Maharashtra government were not present on eight occasions when the case came up for hearing in the Supreme Court, he alleged.

Raj felt the issue had to be tackled practically and not emotionally.

"By shutting down Maharashtra or staging protests or vandalising vehicles the issue will not be resolved," he said. 

"For how long will people from the Karnataka-Maharashtra border areas stage demonstrations. I told them (delegation) the reason why Karnataka government was committing atrocities on them was because they speak Marathi or want to be part of Maharashtra. Since they are living in Karnataka they should know Kannada language, like people of Maharashtra should know Marathi.

"The situation in Maharashtra too is not hunky-dory. If people from border areas want to come in Maharashtra would we be able to provide them proper facility. They will have to face various problems like that of load-shedding," he added. 

Raj said the border row had to be resolved quickly. 

"The issue has to be resolved at once. It is the question of survival of over 25 lakh people. The youth's view should also be taken into consideration," he stressed.

Earlier, during the meeting Thackeray asked the members of the MES delegation whether they had met Karnataka Chief Minister D V Sadananda Gowda and apprised him of the issue. 

In Thane, Shiv Sena executive president Uddhav Thackeray today said an "emergency-like" situation prevails in Belgaum  and vowed to fight for protecting interest of Marathi-speaking people in the neighbouring state.

"Irony is that the civic body elected by the citizens of Belgaum has been superseded and this is nothing but an emergency, worst then the one which was imposed by late prime minister Indira Gandhi," Uddhav told reporters after inaugurating a theater complex, named after veteran Marathi actor late Dr Kashinath Ghanekar here.

Reiterating his party's resolve to stand by theMarathi-speaking people in Karnataka, Uddhav said Sena would soon announce its action plan that includes statewide agitations and Maharashtra bandh, besides a march to Delhi on the issue.

Replying to a query on Shiv Sena's view on its alliance partner BJP which is currently at the helm of affairs in Karnataka, Uddhav said,"one should understand that the cause was for the Marathi-speaking people and nothing else". 

Karnataka government recently superseded Belgaum Corporation for not performing its functions in accordance with the Karnataka Municipal Corporation Act 1976, and for certain actions that "offended the sentiments" of the people. 

The city mayor and deputy mayor had observed Karnataka foundation day on November 1 as "black day".

The civic body had also passed a resolution stating that it will not hold civic reception to honour the Jnanpith awardee Chandrasekhara Kambara, which had triggered protest in other parts of the state.