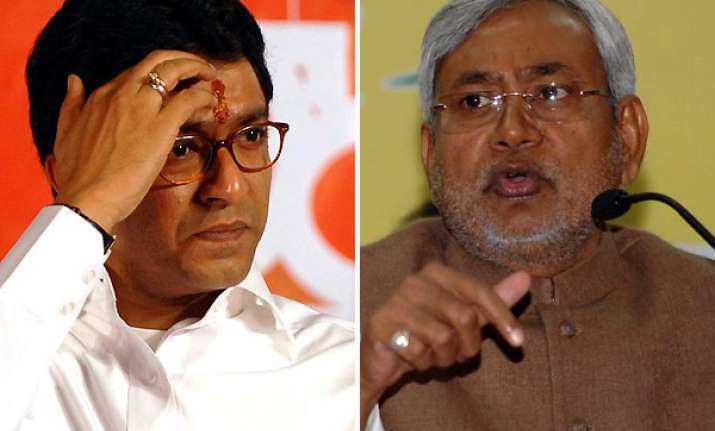 Nashik, Apr 13:
MNS chief Raj Thackeray yesterday dared Bihar Chief Minister Nitish Kumar to celebrate "Bihar Divas" in Mumbai.

Addressing a rally at Idgah maidan in the powerloom town of Malegaon, 90 km from here, this evening, Raj said "I thought that Nitish Kumar was a nice person who was developing his state."

But Raj said, referring to Kumar's statement that 'I don't need visa to come to Mumbai', "let us see how he (Nitish) celebrates Bihar Din in Mumbai".

Raj also asked where was the need to celebrate the day in Mumbai when Biharis were settled in other states too.

He also said Maharashtra Chief Minister Prithviraj Chavan, Deputy Chief Minister Ajit Pawar and Home Minister R R Patil should ask the Bihar CM not to celebrate the day in Mumbai.

However, before attacking Kumar for his proposed visit to Mumbai, the MNS chief lauded Bihar Chief Minister's crack down on hooligans and anti-social elements in his state in which "50,000 goondas were sent to jail and it became possible for women to walk safely on roads".

Raj also hit out at Maharashtra government for allegedly neglecting water scarcity and targeted the ministers for "grabbing lands and houses" for their trusts and families, as revealed by the CAG report.

The MNS chief also alleged Malegaon and Bhivandi towns in the state had become havens for Pakistanis and Bangladeshis living illegally in India and urged the locals to hand over such people to the police.

Meanwhile, the organisers of celebration of centenary year of Bihar's creation on April 15 in Mumbai today clarified that it had no political overtones.