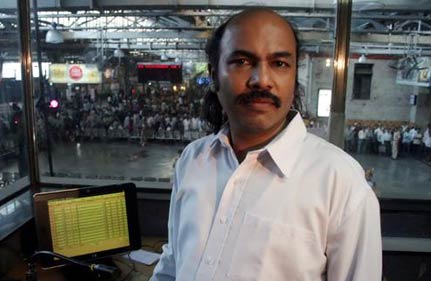 Mumbai, Nov 6:  Central railway announcer Vishnu Zende, who saved lives of several people during the dastardly November 26 terror attack at the Chhatrapati Shivaji Terminus (CST), today said, he was "overwhelmed" to meet US President Barack Obama.
"The President shook hands with me and said you did a good job," Zende told PTI.
"I am overwhelmed to meet him. This is a big thing for me," he said.
On the ill-fated night of November 26, 2008 Zende saved lives of hundreds of commuters by continuously alerting them to leave the CST railway station, where two terrorists, including Pakistani gunman Ajmal Kasab, opened fire indiscriminately.
Zende was among those invited by the US Consulate to attend a function at the Taj Mahal Hotel, where Obama paid homage to victims of the 26/11 terror attack.
Taj Mahal Hotel General Manager Karambir Singh Kang, who lost his wife and two children when terrorists laid a three-day siege at the hotel and was among the other invitees, however, refused to comment on his interaction with the US President.
Obama, in his speech at the Hotel, praised Kang and Indian nanny Sandra Samuel, who saved Moshe, baby of Rabbi Gavriel and Riviki Holtzberg, killed by terrorists at the Chabad House. PTI