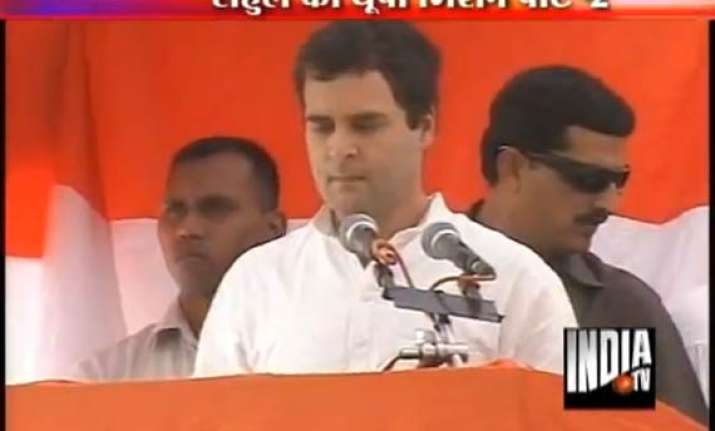 Barabanki, Nov 22: In a measured tone while addressing district party workers here today, Congress leader Rahul Gandhi promised to make a "big start" if the party is returned to power in UP. He promised to make the state number one in terms of development in the next 10 years.
 
Flanked by state Congress leaders, Rahul Gandhi told party workers how UP has been left far behind in the last 20 years of BJP, SP and BSP rule.
 
"There was a time when the entire country looked to what the state of UP did, but no more. The nation today looks towards Bangalore, Haryana, Andhra Pradesh and Delhi for development and Uttar Pradesh has been left far behind by these parties", Gandhi said.
 
"The leaders of SP and BSP have only been giving speeches (read: making promises) to the people of UP and they will continue to do so for the next 5 years too, if they are returned to power", Rahul Gandhi said.
 
"We want UP to progress in the sectors of roads, industries, power and water (read: irrigation) which will help all the people of the state.
 
"Today, the people of UP have to go outside the state in seach of jobs, because many other states have left UP far behind. Bangalore tops in the IT sector. Similarly other states have huge industries, but UP lags behind", said Gandhi.
 
"The fact of the matter is that the previous BJP, SP, BSP governments in UP were anti-people. Since 2004, when the UPA came to power, the Centre had been giving funds to UP, but the money is not reaching the poor.
 
"The funds sent by the Centre are lining the pockets of local leaders, ministers, middlemen and officials", Rahul Gandhi said.
 
"So much so, that even the chief minister of UP says her state doesn't need MNREGA. On one hand all the other states are praising MNREGA, but the chief minister is unwilling to implement this scheme. Who is the ultimate loser? The losers are not the politicians or officials, the losers are the poor people", said Rahul Gandhi.
 
The Congress leader mentioned a local leader complaining that the party had no money to carry out election campaign.
 
"Elections", Rahul Gandhi said, "are one on the strength of popular support and not on the basis of money. The party that stands with truth is stronger than the one which has money. The elctions will show, truth shall prevail over money power.  Leaders don't make parties victorious, workers make the parties victorious. You (Congress workers) are the backbone of our party".
 
There was an unseemly clash between supporters of K L Punia and Beni Prasad Verma which was averted at the last minute.