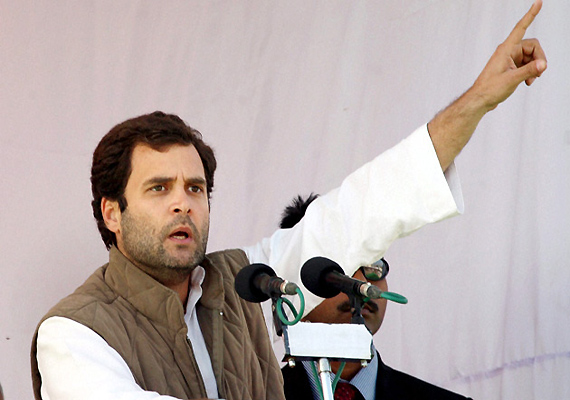 Bhimnagar, Feb 29: Congress leader Rahul Gandhi today attacked SP chief Mulayam Singh accusing him of doing nothing for Muslims in Uttar Pradesh despite being the chief minister thrice.

"Mulayam Singh Yadav calls himself leader of Muslims.... in the last 22 years, he had been the CM thrice, but he neither respected Muslims nor ensured their development," he alleged at an election meeting at Chandausi.

Rahul charged BSP supremo Mayawati and the SP leader with "just making promises".

"They come during elections, make promises and when they win they maintain distance," he alleged.

Taking a dig at the SP chief, Rahul alleged that Mulayam can promise anything. "He can even promise to paint the sky green," he remarked.

On the other hand, he said, the Congress did not believe in making hollow promises.

"It believes only in work. Because of this, I met the Prime Minister on the problems being faced by weavers and got them resolved," the Congress leader said.

Rahul said that when he talked with weavers about loan waiver they requested not to send money to Lucknow as 'a magic elephant' there would eat their money. 'Elephant' is the election symbol of ruling BSP.

He said if Hindus, Muslims, Christians and Sikhs stood together a change would come to the state.