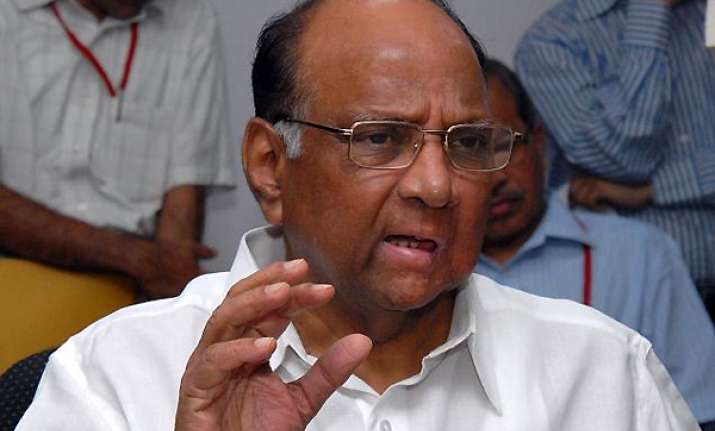 Lucknow, Nov  20: Nationalist Congress Party supremo Sharad Pawar on Saturday said Congress leader Rahul Gandhi's remark about people of UP begging in Maharashtra was inappropriate.

Talking to newspersons here after attending a party meeting, Pawar said people from UP contribute to the development of Maharashtra through hard work and in turn earn money and not through begging, he said.

Pawar decried chief minister Mayawati's move for division of UP saying the initiative should have been taken four years ago, but it has been taken  shortly before the Assembly polls for political gains.

"The NCP is in favour of small states and if a proposal to this effect comes before Parliament, we would support it", the NCP president said.

Pawar said, his party was in favour of a strong Lokpal Bill to put a check on corruption.

The Agriculture Minister also called for urgent steps to  check rising prices, saying it was  having its impact on UPA allies.

"There is an urgent need to check rising prices and UPA partners are also feeling its impact",  he said.

He added that farmerws should get adequate remuneration for their produce.

Pawar said his ministry has prepared a blue print for second green revolution in the country for which eastern districts of Uttar Pradesh, Bihar, Orissa, Jharkhand and Assam have been given a help of Rs 400 crore which would be further enchanced in the next budget.

The union minister said that sugar production this year is expected to be more than last year and the biggest contribution in this would be that of Uttar Pradesh followed by Maharashtra.

To questions on his party's strategy for the coming Assembly elections in Uttar Pradesh, he said that a decision on which seats to contest and which party to enter into an understanding with has not yet been finalised.

"It is party's policy that it leaves the decision of all elections barring that of  Lok Sabha  on the state units ", he added.