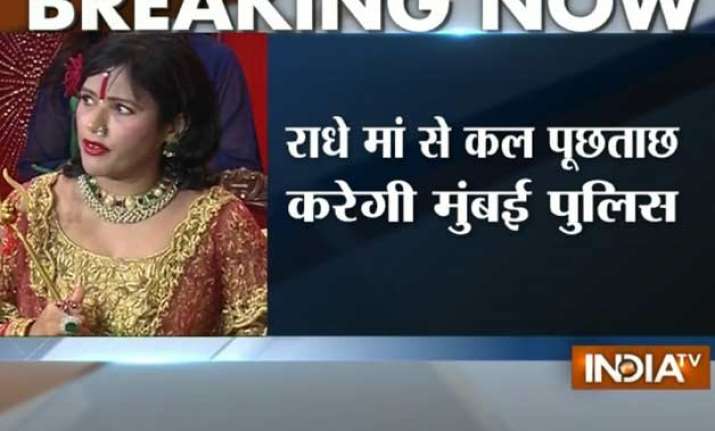 Mumbai/Ahmedabad:  Troubles increased for Sukhvinder Kaur alias Radhe Maa, the self-styled godwoman, today, with a court in Mumbai denying her pre-arrest bail and a Gujarat MLA seeking probe against her in connection with a suicide case in Kutch district.
Also, in Mumbai, a lawyer demanded action against her for allegedly carrying trident during a flight.Radhe Maa, summoned by Mumbai police for questioning with regard to a dowry harassment case tomorrow, had sought anticipatory bail, but the sessions court denied her relief.
The Mumbai police filed a case against her on August 5 for instigating the in-laws of a 32-year-old woman to harass her for dowry.
In Gujarat, BJP MLA Vasan Ahir said he had written to the state home department and demanded probe against her in connection with a case where seven members of a family committed suicide in Anjar tehsil of Kutch district.
Raghu Jaru (32), his wife Laxmi (30), Raghu's brother Lakhu (30) and his wife Kanku (28) committed suicide by hanging themselves after poisoning and killing Lakhu's son Shaswat (4), daughter Prachi (5) and Raghu's son Shyam (7) at Ningal in Anjar teshil (Ahir's constituency) in March 2014.
Ahir alleged that the family had sold its entire land and given the godwoman Rs 1.35 crore because she had promised them place in heaven if they paid her the money and became her life-time disciples.
After realising that they had been duped, they committed suicide, he alleged.Further in Mumbai, advocate Rajkumar Rajhans today filed a complaint with the Airport police station, alleging that Radhe Maa had carried a trishul (trident) with her at an airport and on a flight during her recent travels. Police had not registered any case yet, however.
In Thane, near Mumbai, an NGO called 'Support' claimed that the high-end car used by Radhe Maa during her recent visit to Aurangabad was purchased using fake documents. It demanded probe by the police and the Thane Regional Transport Office.