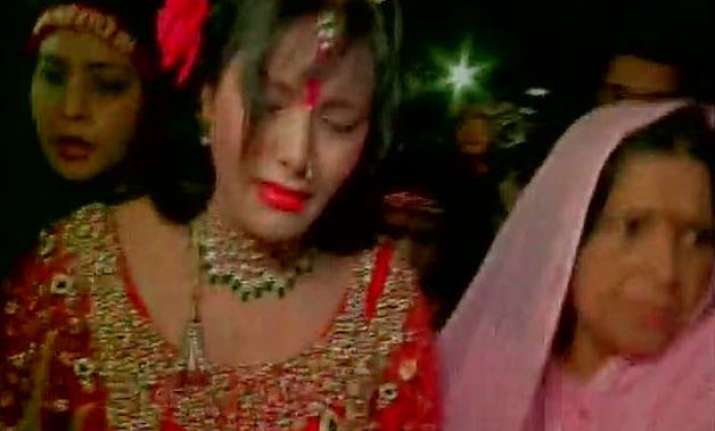 Nanded: The controversial, self-styled godwoman, Radhe Maa,  broke down before media today after she was asked about her alleged involvement in domestic violence and harassment of her disciple Niki Gupta.
"Mujhe kuch nahin kehna, mera nyaye upar wala karega," Radhr Maa told media persons.
Radhe Maa was in Aurangabad on Friday where she was questioned by Police for over an hour.  
She was visiting Nanded Gurudwara in Maharashtra on Saturday.
Giving a brief statement to the mediapersons, the self-styled godwoman said, "I don't want to say anything, God will do justice to me."
Few days earlier, some objectional photo of Radhe Maa went viral on social media in which she was seen wearing mini skirt.
Recently a Mumbai based woman accused Radhe Maa for instigating her husband and in-laws to harass her and demand dowry from her family.
The victim also alleged that Radhe Maa had demanded Rs 7 lakh cash, golden jewelleries, ornaments and VIP treatment from her family in order to attend the reception party.
Radhe Maa, reportedly, is also accused of spreading obscenity in the name of religion.
Falguni Brahmbhatt, a lawyer,  has filed a police complaint against Radhe Maa for running a business in the name of religion and misleading innocent people.
However, the self-proclaimed godwoman had refuted all the allegations against her in a post on her official Facebook account stating, "The reports are full of inaccuracies, unsubstantiated allegations, and rumors that have no basis in fact."