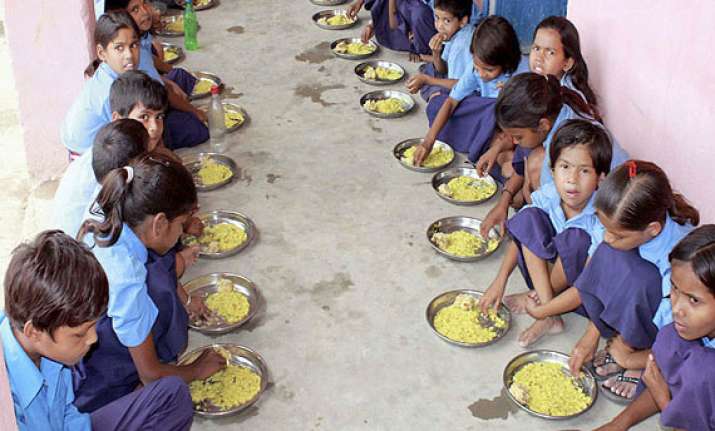 New Delhi: In the backdrop of the Bihar midday meal tragedy which claimed 23 students' lives, state Education Minister P K Sahi yesterday suggested a review of the cost factor under the scheme, saying the existing funding pattern is grossly inadequate to ensure quality food.
Sahi, whose suggestions were supported by Education Ministers from Chhattisgarh and Uttarakhand, said the "scheme needs to be revisited".
"The cost is a factor. It is not possible to provide children mid-day meal where the per unit cost comes to just about Rs 3.60," he said, terming the tragedy in the state where 23 children died as an "accident".
The programme came under review today at the Central Advisory Board of Education (CABE) meeting where the practices followed by the states were also discussed.  
Officials from Tamil Nadu said they have a single source for procurement foodgrains where the Tamil Nadu Civil Supply Corporation is engaged in the procurement process.
They said 13 types of food items are served to students on a rotation basis which also includes providing millets.  
The ministers also suggested revising the daily wages of the cook-cum-helper which at present range between Rs 1000-1500 per month.
The mid-day meal programme is one of the largest programmes in the world, serving hot-cooked food to over 10 crore children in more than 11 lakh schools across the country.
At present, 75 percent of the scheme is funded by the central government whereas 25 percent of the funds are provided by the state government.