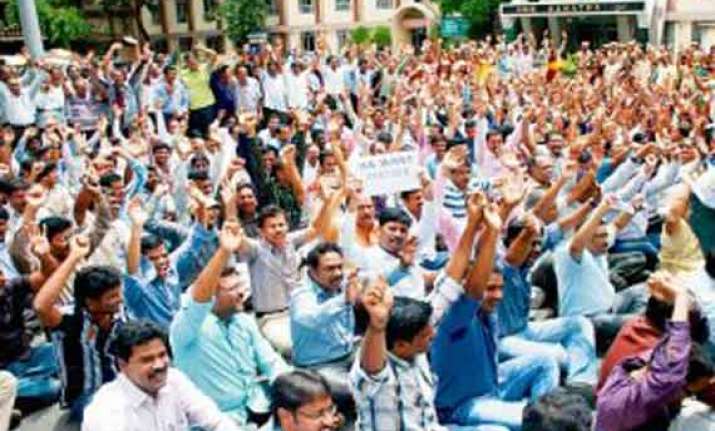 Hyderabad : The pro-united Andhra employees of Andhra Pradesh government would begin a strike from today in protest against the state's division.  The employees of various departments, under the auspices of 'Forum for Protection of United State', served a strike notice to the state government yesterday.  
"We had said that we would agitate if the Centre tabled the bill (for the formation of a separate Telangana) even after its rejection by the AP Assembly. We are ready to agitate from February 5 midnight.
Accordingly, we gave a strike notice to the government," Andhra Pradesh Non-Gazetted Officers' Association (APNGOA) president P Ashok Babu said.  Led by the APNGOA, pro-"united" AP government employees had struck work for over two months last year, which had paralysed normal life in Rayalaseema and Coastal Andhra (together known as "Seemandhra").
The strike notice came even as the Centre is gearing up to table the Andhra Pradesh Re-organisation Bill during the Parliament session.
Opposing creation of Telangana, Andhra Pradesh Chief Minister Kiran Kumar Reddy today brought his protest to the capital where he staged a sit-in and met President Pranab Mukherjee to request him to stop the bifurcation.  YSR Congress president Y S Jaganmohan Reddy also met President Pranab Mukherjee today in support of keeping the state united.
TDP Chief N Chandrababu Naidu has also met the President and several top leaders, including L K Advani and Rajnath Singh, during the last few days over the issue.