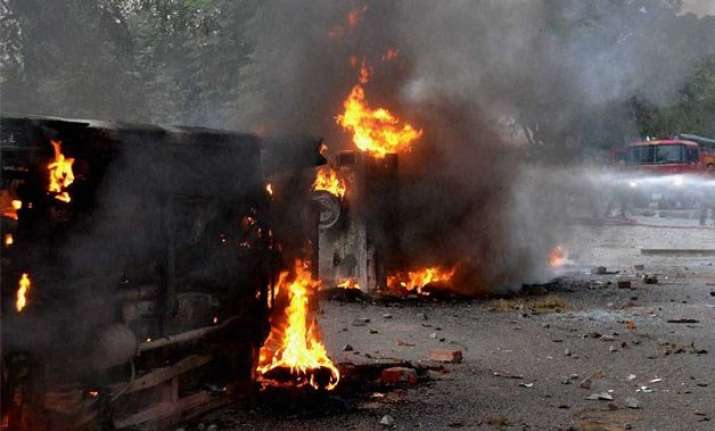 Patna: In a grim reminder of Sunday's Malda violence, a huge mob went on rampage in Bihar's Purnea district on Thursday in protest against the alleged derogatory comments on Prophet Mohammed made by Bharat Hindu Mahasabha leader Kamlesh Tiwari  
A crowd returning from an All India Islamic Council-led procession against Tiwari's comments turned violent and protestors torched vehicles and ransacked the Baisi police station.
The crowd also pelted stones at the police during the procession. The situation was later controlled by Pankaj Kumar Pal, District Magistrate, Purnea.
More than a dozen policemen were injured and about 30 vehicles were torched after a massive Muslim protest rally turned violent in West Bengal's Malda district on Sunday.
The purportedly objectionable comments by the Hindu Mahasabha leader have resulted in violence in Uttar Pradesh (Kanpur, Lucknow and Bareilly) and West Bengal (Malda) already.
On December 3, Tiwari called Prophet Mohammad the world's first homosexual. Kamlesh Tiwari's statement had come a day after UP Cabinet minister Azam Khan called RSS members 'homosexuals'.
He is also reported to have allegedly circulated pamphlets against the Muslim community. He was arrested in Lucknow the same day and has been in custody since then.
Bihar DGP PK Thakur today said "The protest march was organised with the permission of local SDO and some anti-social elements mixed up in the crowd after the procession ended. They  were  responsible for the incident,"
Dismissing reports of arson, he said that a government vehicle was vandalised.
He also said that the police is trying to ascertain the identity of the miscreants through a video footage.
When asked to comment on the Purnea rampage, RJD Supremo Lalu Prasad said he had no information about the incident.
Chief Minister Nitish Kumar, on the other hand, avoided to answer the question asked by reporters on this incident.