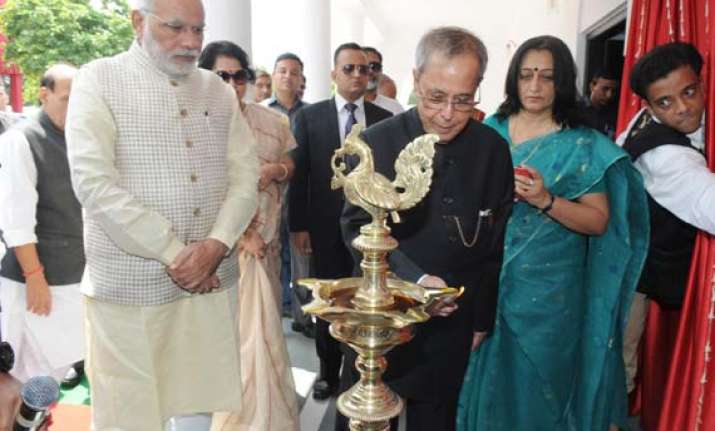 New Delhi: President Pranab Mukherjee on Friday inaugurated India's own version of Madame Tussauds museum with fibre-glass statues of former Presidents and eye-catching gifts received by them from abroad on display.
The opening of the museum, attended by Prime Minister Narendra Modi, was part of a series of programmes being organised by the Rashtrapati Bhavan to commemorate completion of Mukherjee's two years in office.
Flanked by Modi on one side and former prime minister Manmohan Singh along with his wife Gursharan Kaur on the other, Mukherjee cut the ribbon of the museum which has been dedicated to people of the country as part of the President's initiative to make Rashtrapati Bhavan people-friendly.
Thanking Modi, Cabinet Ministers and others who gathered at the function, Mukherjee said, "I am sure this museum will enable the people of our nation to obtain an inside view of the Rashtrapati Bhavan, its art, architecture and vibrant community as well as educate them on the lives of various Presidents."
The museum showcases landmark events like planning and construction of Raisina Hill edifices, signing of Gandhi-Irwin pact in the erstwhile Viceroy's House, meeting of leaders to take a decision on the partition of India and oath taking ceremonies, held in Durbar Hall, of first Prime Minister Pandit Jawaharlal Nehru and first President Babu Rajendra Prasad.
In the museum, which has been established in the erstwhile stable of the Rashtrapati Bhavan that housed horses and ceremonial coaches, the story of the Rashtrapati Bhavan is narrated using sound-light-video animations, laser and holographic projections and augmented reality.
It has a simulated battlefield, examples of furniture designed by Sir Edwin Lutyens for the Viceroy's residence, ceremonial coaches, photographs and memorabilia of the President's Body Guard and paintings of the 19th Century.
It has a 'know your Presidents enclave' to help visitors identify different Presidents and see audio-video clippings related to them.
The museum, replete with gifts that previous Presidents received, has been curated and raised to showcase the history since 1911 till the contemporary times.