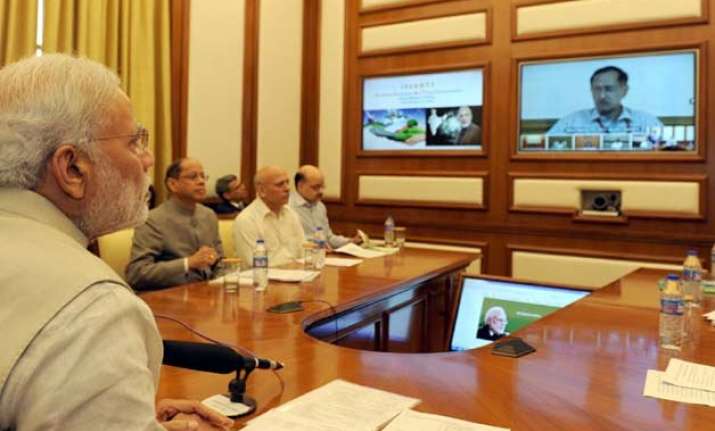 New Delhi: Pragati, the Pro-Active Governance and Timely Implementation Program of government took place on Wednesday.
It was the first-of-its kind initiative by the Modi government in which the Centre and States came together on a single platform through video-conferencing and reviewed and monitored important projects of the government.
The first day saw discussion of many important issues between Prime Minister Narendra Modi and the State secretaries. The issues ranged from Swachh Bharat Abhiyaan, toilets in schools, impact of the recent unseasonal rains, status of key infrastructure and industrial projects. 
The discussion which lasted for around two hours had participation of several senior bureaucrats of centre and state in it.
It is a new exercise which will be repeated on fourth Wednesday of every month.
ALSO READ: PMO to come up with renewed public grievance redressal portal 'PRAGATI'
Speaking on the occasion, the Prime Minister said the whole world is now observing India keenly and hence it is imperative that governance in India becomes more efficient and responsive. He said the PRAGATI program was a step in that direction.
Six central government projects involving more than a dozen Union Ministries and thirteen states were discussed during which it came to light that number of actions and permissions had been pending from several years.
Environments and other central clearances and financial support to projects were also raised repeatedly.
Modi also sought specific information on several infrastructure projects like that of Navi Mumbai airport project in Maharashtra and the Ganga rail-road bridge in Patna. He asked several states about the ease of doing business there.
The states in turn raised issues where centre's attention was required. PM gave suitable directions for redressal of grievances and compliance on the projects and programmes and motivated all officers to work in coordinated manner for outcome.
Interestingly, the built-in feature of PRAGATI is that these directions will remain in the system for further follow up and review till the finality of the matter.