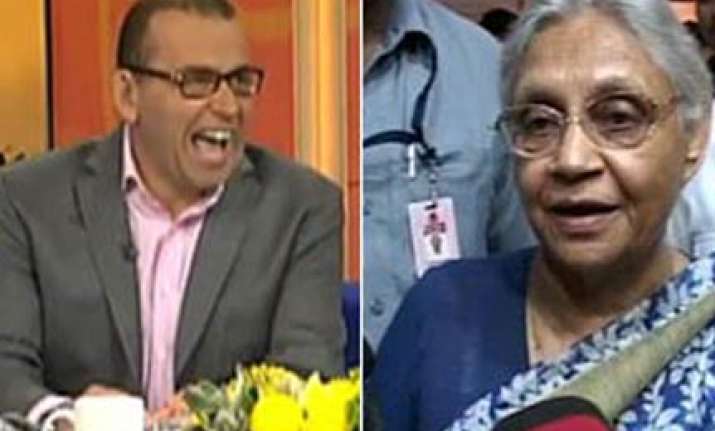 Melbourne, Oct 8 : New Zealand today termed as "insulting" a television host's racist remarks against Delhi Chief Minister Sheila Dikshit made on state-run TV that led to a furious official protest from India, even as its foreign minister said the government is powerless to take any action.  TVNZ presenter Paul Henry had mocked the name of Dikshit during a breakfast show. 
"It's so appropriate because she's Indian", he had said, prompting India to summon New Zealand's High Commissioner Rupert Holborow at the foreign ministry to lodge a protest.  Responding to New Delhi's official protest on the issue New Zealand Foreign Minister Murray McCully said, "Any action against Henry is entirely a matter for the company, or for the Broadcasting Standards Authority."  "The actions of Henry in this case can only be described as gratuitous and insulting," McCully said as he backed an apology of High Commissioner Holborow.  McCully said Henry's remarks were a regrettable abuse of freedom of speech as he responded to a formal complaint lodged with Wellington's envoy in New Delhi.
The foreign minister said he would contact the Indian government to assure it "the comments were the actions of one person, made in a country in which freedom of speech is an important foundation principle".
While the presenter made the remarks on state-owned television station TVNZ, McCully said he wanted to make it clear to India that under New Zealand law the broadcaster operated independently of government.  "However it is always regrettable when a prominent individual abuses the freedom of expression, which is one of our basic rights, to cause offence to others. That is especially the case when the person offended against is a prominent public figure in another country," McCully said.  In his apology, Holborow said Henry's comments were "culturally insensitive, inappropriate and vulgar" and did not represent the view of the New Zealand people.
Henry had made remarks about Dikshit last Friday but they passed largely unnoticed until TVNZ included the footage in its website's highlights section. Since then, it has been viewed more than 300,000 times on youtube.com.
Henry is already serving a two-week suspension over comments on Monday questioning whether Governor General Anand Satyanand, who was born in Auckland to Indo-Fijian parents, was a proper New Zealander. PTI