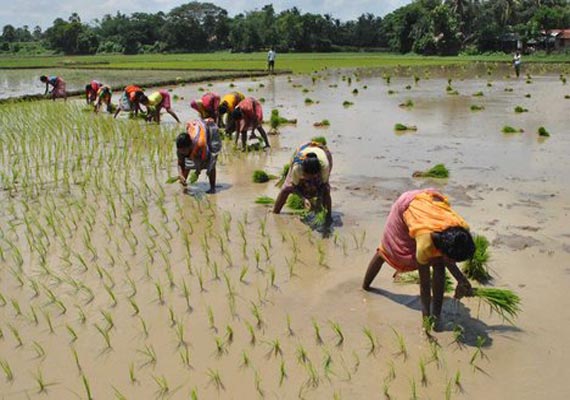 Patna, July 24: Poor monsoon in 19 of Bihar's 37 districts, as of the third week of July, has affected paddy sowing and triggered fears of another drought among millions of the state's farmers, agriculture scientists and officials.
"Scanty monsoon rains in Bihar have badly affected paddy sowing. Till date, less than 34 percent paddy seedling has been reported," state Agriculture Minister Narendra Singh told IANS here.
With the state recording a deficit of more than 18 percent in rainfall so far, it is not a good sign for the agriculture, particularly paddy, he said. "Farmers are also getting restless about transplanting paddy seedlings in view of the lack of water," he said.
Singh said that paddy seedlings were badly hit in over a dozen districts, including Gaya, Nalanda, Nawada, Banka, Sheikhpura, Lakhisarai and Munger.
All these districts are facing drought-like situation, he said. The state government would provide diesel to farmers at subsidised rates under a contingency plan to cope with the drought-like situation, he added.
Monsoon normally hits the state between June 12 and 14. While the rains have begun, they have been scanty. "Districts in flood-prone north Bihar received good rains but drought-prone districts are yet to receive normal rains," said an agriculture department official.
According to the meteorological office, Bihar has received 325 mm of rainfall till date against its requirement of 398 mm, a deficit of over 18 percent.
The state government targeted paddy cultivation on 4.75 lakh hectares this year. "Till date, paddy seedlings have been reported on about 4 lakh hectares," an official said.
Reports reaching here said unlike in the past, there is no water for irrigation in the canals. A large part of central Bihar is irrigated by water from the Sone river, brought through canals.
A few farmers have managed to save paddy seeds sown early this month by pumping ground water.