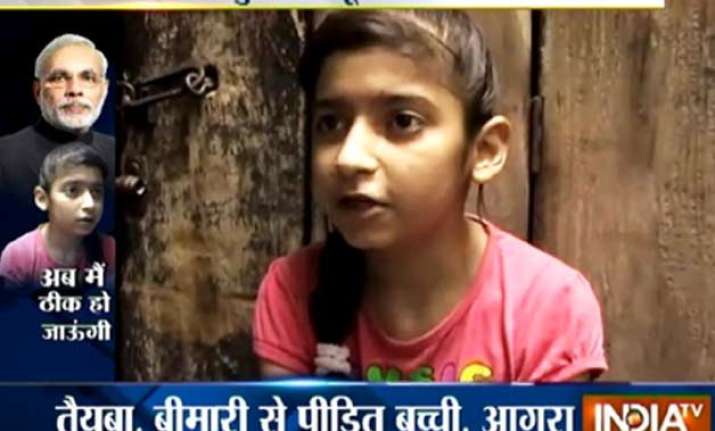 Agra: A 12-year-old girl from Agra, suffering from a heart disease, has got support from Prime Minister Narendra Modi after she wrote an emotional letter to him.
Tayyaba, daughter of a shoemaker from Teela Ajmeri area of Agra, has congenital heart disease, and her parents somehow managed treatment for her.
It was hard for poor parents of Tayyaba to afford her treatment and therefore, she decided to take the matter in her own hands and wrote a letter to PM asking for help.
While talking to India TV, she said, "I told my mother that they are so worried. I saw in TV that PM serves everyone, I am a girl, daughter of 'Bharat maa', I too have a right to live so I decided to write a letter to him."
Here is what the student of class 8 wrote to PM Modi:
मेरा नाम तैयबा, उम्र 12 वर्ष है। मैं जन्म से दिल की बीमारी से पीड़ित हूं। मेरे पिता जी खालिद रोज़ की मज़दूरी करके हम भाई-बहनों को पाल रहे हैं। मेरे दिल के ऑपरेशन के लिए मुझे दिल्ली के सरकारी अस्पताल जीबी पंत हॉस्पिटल में ऑपरेशन की सलाह दी गई है। हालांकि अभी वहां मेरी सारी जांच मुफ्त में हो रही हैं और मेरी देखभाल अच्छी तरह हो रही है। मैं कक्षा 8 की छात्रा हूं और अभी जी कर देश निर्माण के आपके सपने को साकार करना चाहती हूं। मेरा आपसे अनुरोध है कि मेरा आगे भी निशुल्क इलाज करवाने की व्यवस्था करवा दी जाए। आशा है आप मेरी ये प्रार्थना स्वीकार करेंगे।  
आपके सहयोग की आकांक्षी
तैयबा
The PMO responded promptly  and all her treatments have been made free.