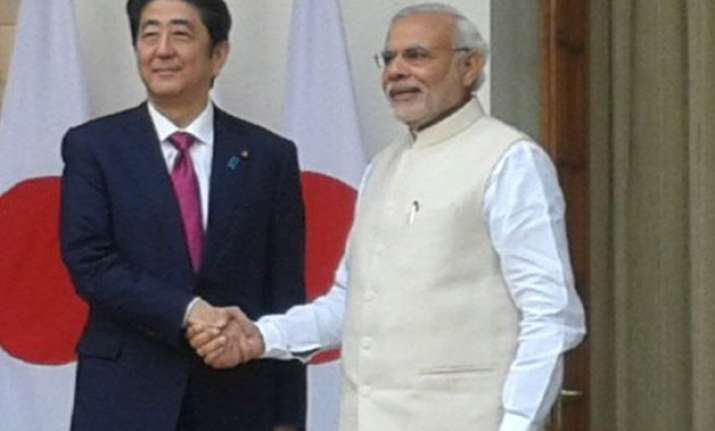 New Delhi: India and Japan has signed major deals including an MoU on civil nuclear energy and commitment to build a bullet train network between Mumbai and Ahmedabad, country's first of its kind.
Japanese PM Shinzo Abe is on a three-day visit to India for annual summit talks with PM Narendra Modi. PM Modi and Abe will visit Varanasi today to witness the Ganga 'aarti'.
India, Japan ink MoU on peaceful use of n-energy
India inked an MoU with Japan on civil nuclear energy and announced that the deal was not just about commerce and clean energy but also a sign of mutual confidence and partnership for a secure world.
The MoU was inked by Indian Prime Minister Narendra Modi and his Japanese counterpart Shinzo Abe.
"No friend will matter more in realising India's economic dreams than Japan. We have made enormous progress in economic cooperation as also in our regional partnership and security cooperation," said Modi after signing the deal.
Stating that there was deep value for the strategic partnership between Japan and India, Modi said: "Shinzo has been prompt and positive on our economic proposals many of which are now unique to India. Japanese private investments are also rising sharply."
The two countries also inked two deals on security operations to deepen defence relations and for defence manufacturing.
Abe said: "We have taken relationship to a new level."
India, Japan ink pact to build first bullet train network in the South Asian country after talks between PM Modi and his Japanese counterpart Shinzo Abe. 
Here are the Highlights:
* Japan PM Shinzō Abe declares that Japan will build a convention centre in Varanasi
* People to people relations are important. We're extending multiple entry visas: Japan PM Shinzō Abe
* With a view to supporting growth of India, both public and private sector of Japan will act in unison, says Japan PM Shinzō Abe
* We have taken relationship to new level and buds have turned into blossoms-Japan PM Shinzō Abe
Japan PM addressing media
* In Sep'14, PM Abe spoke of $35 billion of Japanese finance & investments for India over 5 years, together we're turning it into reality: PM
* Greatly appreciate PM Abe's package of approx $12 billion & technical assistance on easy terms for this project: PM Modi
* We will also strive for our rightful place in a reformed UN Security Council- PM Narendra Modi
* This is different from the electronic visa facility that is being extended globall
* India will extend 'visa on arrival' to Japanese citizens including for business purpose from 1st March 2016
* appreciate PM Abe's support for India's membership of the APEC
* We believe that disputes must be resolved peacefully
* Our shared commitment to combating climate change is equally strong
* We have also taken two more decisive steps in our security co-operation, will promote defence manufacturing in India: PM Modi
* Appreciate the sharp rise in bilateral assistance programme & the strength of public & private Japanese commitment for Make in India
* PM Abe has been prompt and positive on our economic proposals many of which are now unique to India
* High Speed Rail on Mumbai-Ahmedabad sector through Japan's Shinkansen will launch an evolution in India Railways:
* The memorandum we (Indo-Japan) signed on civil nuclear energy co-op, is a signing symbol of a new level of mutual confidence:
* No other strategic partnership can exercise a more profound influence on shaping course of Asia and our interlinked ocean region
* In the course of the past year, we have made enormous progress in eco cooperation and regional partnership
* No friend will matter more in realising India's economic dreams than Japan: PM Modi
* It is a great pleasure to host a personal friend and a great champion of Indo-Japan partnership: PM Modi to Japan PM
Prime Minister Narendra Modi's reform push found an admirer in his Japansese counterpart Shinzo Abe who likened his speed of implementing reforms to a high-speed bullet train.
"PM Modi's economic policies are like Shinkansen (Japanese high-speed railway network) — high speed, safe and reliable and carrying many people along," the Japanese premier told a delegation at the business leaders forum in New Delhi.
Abe, who arrived in the capital on Friday for a three-day visit, invited Indian companies to invest in Japan. Addressing the industry captains, Abe said "I want you, the representatives of the Indian industry to come and invest in Japan."
Apart from bullet trains, India needs high-speed growth, said Prime Minister Narendra Modi on Saturday while addressing business leaders of India and Japan here with his Japanese counterpart Shinzo Abe.

The visit of Abe, who arrived here on Friday on a three-day official sojourn, is expected to see progress towards India's first bullet train.

Prime Minister Modi emphasized that he wanted India and Japan to move ahead together, not just in the sphere of high-speed trains, but also for "high-speed growth".

Recalling his Japan visit last year, and the commitment of $35-billion investment made by Japan, Modi said the figure had surprised many at that time, but today, within a short time-span, "unimaginable progress" had been made, and the contours of this investment were beginning to get visible on the ground.

The Indian prime minister said "Make in India" was proceeding in mission mode, not just in India, but also in Japan. He said the "Japan Plus" initiative that was begun last year as a policy experiment, was also doing well.

Modi said recent economic indicators in both India and Japan were extremely encouraging, especially in the light of the global economic slowdown.

Stating that it was clear that India was a land of possibilities, Modi recalled Japan has been a part of many key economic turning points in India. He gave the examples of Maruti car, and the Dedicated Freight Corridor.
(with IANS inputs)