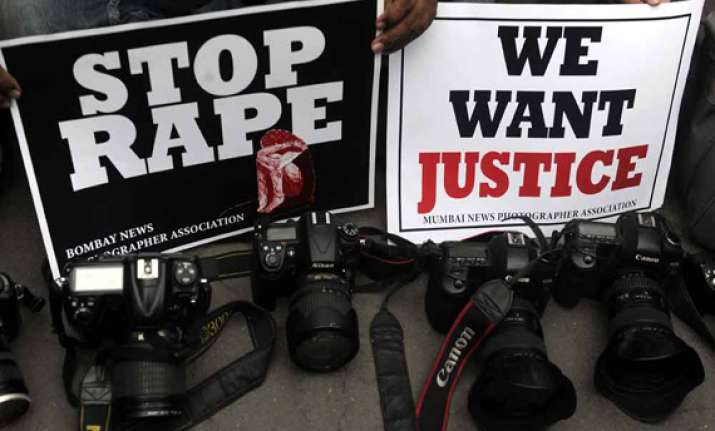 Mumbai: Two witnesses, including mother of the photojournalist who was allegedly gangraped in the Shakti Mill compound here on August 22, deposed before a sessions court on the second day of the trial yesterday.
Another witness to record her statement before the court was a senior colleague of the 23-year-old victim, an intern with an English magazine.
The victim is likely to depose before court on Thursday.
"She (the victim's mother) deposed for two hours in the court and wept through out her deposition. She has stood by her statement given to police," said special public prosecutor Ujjwal Nikam.
The deposition of the victim's mother was held in-camera following her request to the Principal Judge Shalini Phansalkar-Joshi.
In her statement to the court, the photojournalist's mother recalled it was her daughter's birthday on August 22 and they were planning to go out for dinner.  
Initially, when she called up her daughter before the incident, the latter unusually replied in Hindi and said that everything was fine.
The victim's mother further said she was called to the hospital by her daughter who told her about the incident.
The photo-journalist was gangraped by five accused, including a juvenile whose trial is separated, when she had gone to the deserted Shakti Mill compound on August 22 with her male colleague on an assignment.
The accused had tied up the victim's colleague with belts and raped her.
The accused in the case Vijay Jadhav, Kasim Bengali, Salim Ansari and Siraj Rehman have been charged of rape, conspiracy, common intention, unnatural sex and charges under Information Technology act.
The crime branch on September 19 filed a 600-page chargesheet against the four accused.
An 18-year-old telephone operator was also allegedly gangraped on July 31 by five men, three of whom are also allegedly involved in the August 22 gangrape case, police said.