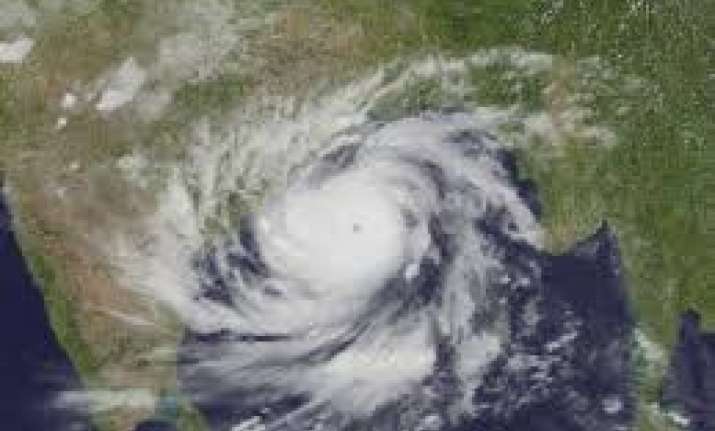 Berhampur: With Cyclone Hudhud likely to make its landfall in neighbouring Andhra Pradesh on October 12, people of Ganjam district in southern Odisha are haunted by the memories of devastation caused by Cyclone Phailin a year ago.
And, there is a strange coincidence in the date too. Cyclone Phailin, too, had made its landfall near Gopalpur in southern Odisha last year on October 12. 15 people had died and 50 others were injured as the cyclone left trails of devastation.
Ganjam is likely to be most affected by Cyclone Hudhud, which will make landfall close to the district.
According to an IMD bulletin in Bhubaneswar, the cyclone will develop into a severe cyclonic storm with wind speed up to 145 kmph on October 12, the day it is expected to make landfall.
The Met office advised hoisting of storm warning of distant cautionary signal number two (DC-II) by replacing the earlier distant warning signal number one (DW-I) at Paradip and Gopalpur Ports in Odisha. It also advised fishermen in deep sea to return to the coast immediately.
"We pray to God not to repeat such disaster once again," said Mamata Bisoi, one of the corporators in Berhampur Municipal Corporation (BMC) as she recounted the sufferings of the people of her ward in the aftermath of Cyclone Phailin.
The residents of a slum pocket here recalled how they spent several days in a nearby school after the roof of their houses was blown off by the cyclonic storm.
"We are yet to repair the damaged houses. Another cyclonic storm will be devastating," said Jhunu Panda a resident of Canal Street of the town.
"The cyclone and the accompanying torrential rains had practically rendered us homeless. We are still living in the same damaged homes," said D Parvti, a resident of Khaza Street.
Panic has gripped the rural population too, mostly the Phailin victims. "It will be another blow to us if another cyclone hits Ganjam," said Laxmi Das of Jagadalapur outside the town.
Ganjam district Collector Prem Chand Chaudhary said there was no cause of worry as the administration was making all preparations to deal with the situation.