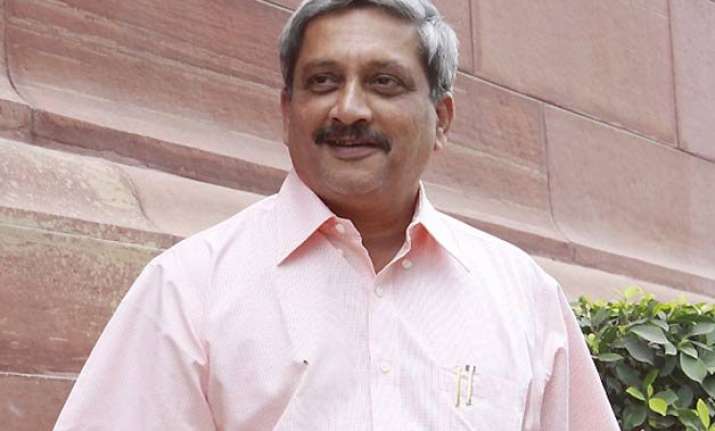 New Delhi: Defence Minister Manohar Parrikar today asked Indian Air Force to focus on safety and conservation of available resources as he interacted with top commanders here just days after India decided to buy 36 Rafale jets.
He also met with the commanders of the Army and emphasized on national security and capability-development, reiterating that capacity-building was a continuous process that must proceed apace and unabated.
Addressing the Commanders here, Parrikar emphasized on aviation safety and conservation of available resources, an official statement said.
His remarks comes at a time when IAF is flying with 34 Squadrons of fighter aircraft even though the sanctioned strength is 42.
A worrying scenario is that over 10 squadrons of MiG 21s will start seeing phasing out from 2017. However, the effort is on to extend them by a few more years.  
"The Minister has been talking about how the defence sector has been neglected over the last 10 years. Any remedial measures will take time to come in. Fresh planes to replace the old ones cannot come in quickly and will take time," defence sources said explaining what the Minister meant.  
During Prime Minister Narendra Modi's recent visit to France, he announced that India will buy 36 Rafale jets in fly-away condition to meet the operational requirement of IAF.  Parrikar has said it will take at least two years for the flights to be inducted.
IAF has been banking on Rafale, the indigenously-developed Light Combat Aircraft Tejas and the Fifth Generation Fighter Aircraft deal with Russia to augment its strength.  However, all the three projects are running behind schedule.  
Addressing the Bi-Annual Army Commanders' Conference, Parrikar highlighted some key issues and challenges, both external and internal, that had an impact on the nation's security calculus, the statement said.
His statement came even as the government has decided on cut down the strength of the Mountain Strike Corps by nearly half.