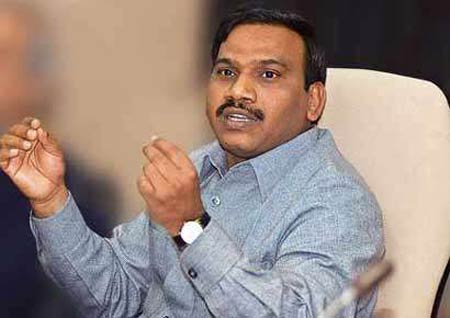 New Delhi, Nov 11:  Parliament was today paralysed for the second day today with the opposition storming the Well in both Lok Sabha and Rajya Sabha demanding ouster of Telecom Minister A Raja, while Congress members denounced the RSS for K S Sudarshan's anti-Sonia Gandhi remarks.
No sooner did Speaker Meira Kumar take her seat in the Lok Sabha, BJP members rushed to the Well raising slogans against Raja. They were joined by AIADMK and Shiv Sena members. CPI(M) members were seen raising slogans from their seats.
They were countered by Congress members, some of whom including Adhir Ranjan Chowdhury trooped to the Well shouting slogans against the RSS.
Parliamentary Affairs Minister P K Bansal was seen trying to make a point citing anti-Gandhi reports quoted to former RSS chief K S Sudarshan in a Hindi newspaper.
The din prompted the Speaker to adjourn the House till 1200 hours.
Similar scenes were witnessed in the Rajya Sabha, where Congress members rushed to the Well soon after Chairman Hamid Ansari took his chair. They carried copies of the newspaper.
Opposition BJP and AIADMK members also trooped into the Well raising slogans demanding dismissal of Raja on being "indicted" by CAG over his role in 2G spectrum allocation.
Ansari repeatedly asked members to go back to their places. "I can't hear anything," he said. PTI