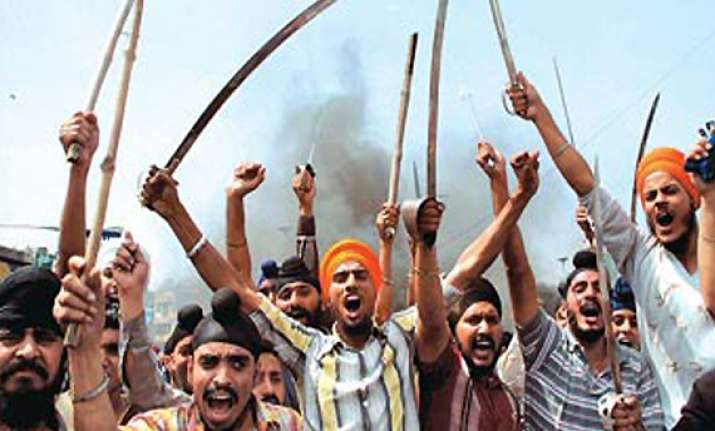 Sirsa, (Haryana), Nov 26: Paramilitary forces were deployed in Sirsa Sunday to help Haryana Police maintain law and order in this Haryana town after violent clashes between followers of Dera Sacha Sauda sect and the Sikh community.
The entire Sirsa town, around 300 km from state capital Chandigarh, has been sealed and no outside vehicles were being allowed in, district officials said.
Services of state road transport buses to and from Sirsa have also been suspended.
Curfew in the entire town continued for the second day Sunday.
The curfew was imposed Saturday evening after violent clashes between followers of the controversial sect and members of the Sikh community.
Seven companies of paramilitary, including the Central Reserve Police Force and the Rapid Action Force, were deployed in the town. They also took out a flag march with police and district officials.
Security has been tightened in the entire Sirsa district.
Deputy Commissioner J. Ganesan Sunday said all educational institutes, including schools and colleges, would remain closed till Nov 28.
Although no violence has been reported Sunday, tension continued to brew between the two sides, police said.
Nearly 2,000 Dera Sacha Sauda followers have been booked for Saturday's violence, which left at least 12 people injured. Six vehicles were also set on fire. The clash took place at Valmiki Chowk in Sirsa town.
The injured were admitted to various hospitals.
A Sikh leader, Gurmeet Singh Trilokiwala, was also seriously injured and referred to Post Graduate Institute of Medical Education and Research (PGIMER) in Chandigarh for treatment.
A Dera Sacha Sauda spokesman said the sect had demanded the arrest of Sikh leaders involved in the violence.
The deputy commissioner said Inspector General (Law and Order) Mohammad Akil, Inspector General (Hisar) Arshinder Chawla, other police officials and officers of district administration were patrolling the town.
In Chandigarh, Haryana Chief Minister Bhupinder Singh Hooda appealed to people to maintain peace.
Ganesan too appealed to people not to step out of their homes during the curfew.
He said police officials have been directed to remain in touch with police stations to keep an eye on the situation and "take quick action against anti-social elements" if they try to vandalise public property.
The headquarters of the Dera Sacha Sauda sect is located on the outskirts of Sirsa town. The sect has several million followers in Haryana, Punjab and other states.
Officials said tension had been brewing between the two sides over the past few days following some remarks made recently against the sect's head, Gurmeet Ram Rahim Singh.
The sect's followers and the Sikh community have had violent clashes in Punjab in the last four years.