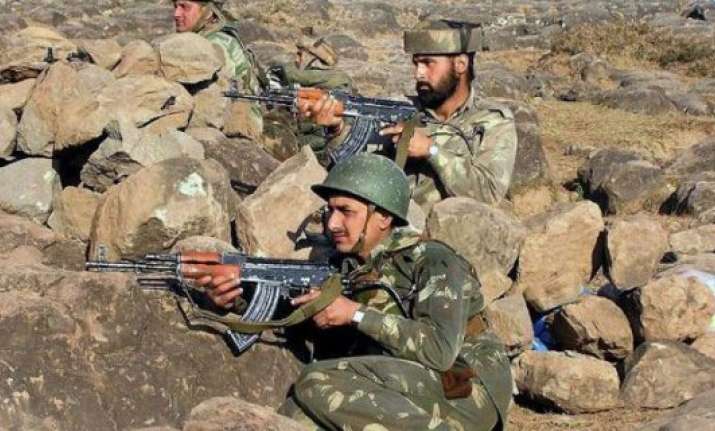 Jammu: Pakistani troops continued breaching the ceasefire along the LoC for the fourth successive day today by resorting to unprovoked firing and shelling, while two persons have been injured and several houses damaged in Jammu region overnight due to the violation.  Army troops guarding the borderline with Pakistan, effectively responded to the firing.
"Pakistani troops violated ceasefire by resorting to unprovoked firing on Indian forward posts along LoC in Sabjian belt of Poonch district around 1050 hours today," a Defence spokesman said here tonight.
No casualty was reported till the last news came.  This was the ninth ceasefire violation in the last four days.
After shelling border hamlets along the LoC in Poonch, Pakistani troops resorted to heavy firing of mortar bombs, small and automatic weapons in Jammu region overnight leaving two persons injured.
The Army said there was also a brief ceasefire violation along the LoC in Gulmarg sector of north Kashmir last night.  "Pakistani Rangers resorted to firing and shelling of mortar bombs targeting border hamlets and Border Out Posts (BoPs) along the International Border in R S Pura belt of Jammu district since last night," a police officer said today.  In the firing and shelling, four BoPs and Channa, Kako De Kothay, Kodwal and Devigarh villages were hit.  Two persons were injured in Kako-De-Kothay village, the officer said.
Seven houses suffered partial damage in the firing, he said. BSF troops retaliated resulting in exchanges of fire which continued till midnight.
There were six ceasefire violations along LoC in Poonch and three along International Border in Jammu. These included four in Poonch LoC, three in Jammu IB and two in Gulmargh sector of Kashmir.
A minor girl was killed and 10 people injured in firing and mortar shelling along LoC in Sabjian forward belt of Poonch district in the past three days.  In Srinagar, General Officer Commanding of Srinagar-based 15 Corps, Lt Gen Subrata Saha, told reporters today that there was a brief ceasefire violation along the LoC in Gulmarg sector of north Kashmir.
"On the intervening night of September 30 and October 1, the first ceasefire violation took place in Poonch sector.  "Yesterday, it was in the south of Gulmarg as well. The effects were more pronounced on the Poonch side. It was very much there on our side but comparatively not significant," he said.
BSF today told Pakistan ranger not to fire along the International Border (IB) as it is not good for people on both the sides.
"We have told them (Pak Rangers) in the morning don't fire it is not good for general public of both the sides," Inspector General (IG) BSF, Jammu Frontier, Rakesh Sharma told said.