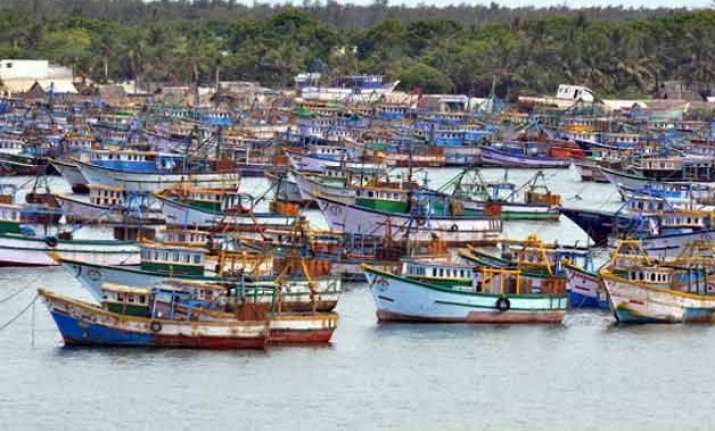 New Delhi: Pakistan has returned 57 Indian boats belonging to Gujarat fishermen that had been impounded by Pakistan Navy. They will reach the Indian coast on Monday evening.
A statement issued by the Home Ministry in New Delhi said the government had diplomatic talks with Pakistan for the release and return of these fishing boats.
Indian fishermen are slated to receive these boats at Porbandar, on Monday afternoon. Each of these boats is about 4 to 5 years old and cost around Rs 24-26 lakh.
The boats would be handed over by Pakistan Maritime Security Agency (PMSA) to the Indian Coast Guard in the same area as the International Maritime Boundary Line (IMBL). Interestingly, this is near the site where a suspicious Pakistani boat had sunk under mysterious circumstances on New Year's Eve.
The Ministry of External Affairs (MEA) and Indian high commission at Islamabad arranged for the inspection and return of these boats to India with the help of PMSA.
After several rounds of discussions with Pakistan authorities, the Indian team including representatives of the Indian high commission, Islamabad, inspected the boats and projected a fund requirement of Rs 1.28 crore for the repair and return of the boats.
The Union home ministry in consultation with the Gujarat government sanctioned the amount on an urgent basis with a view to expedite repair work.
The home ministry also arranged the movement of an 8-member team on March 10 as proposed by the Gujarat government to Pakistan for inspection, repair and return of the boats.
As per protocol, the boats were towed away by Pakistani trawlers to a designated location at a site along the IMBL in sea water under the supervision of the PMSA and then towed away by Indian fishing boats from the IMBL site to the Indian coast in Indian waters under the supervision of the Indian Coast Guard.
Gujarat arranged for 57 towing boats, 407 fishermen, and 10 state government officials who sailed from Porbander to the designated IMBL site on Sunday to receive the Indian boats from Pakistan.
Indian Coast Guard ships Rajratan and Vijit along with adequate manpower are supervising the whole operation.