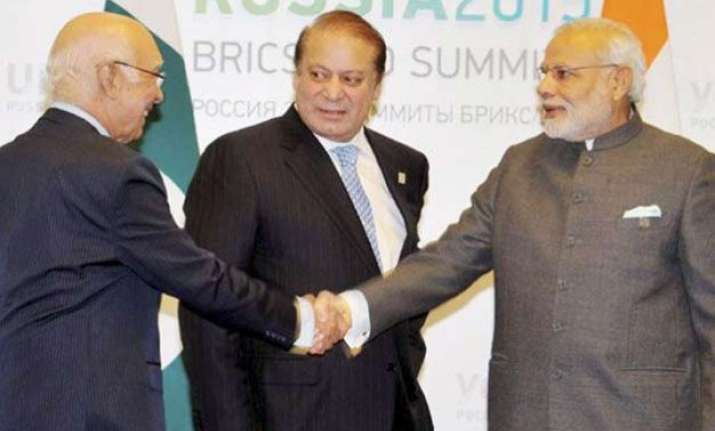 New Delhi: Pakistan is preparing a dossier to highlight 'India's involvement in abetting terror' in Balochistan and Karachi during the upcoming meet of National Security Advisers of the two sides.
Reports said that Pakistan is also expected to take up the alleged slow progress in the trial of Samjhauta Express blasts during the meet which will be held in New Delhi.
Pakistan's National Security and Foreign Policy Adviser Sartaj Aziz is expected to handover the dossier to his Indian counterpart Ajit Doval during his India visit.
"Pakistan is likely to up the ante and raise issues that help them address their domestic constituency," an Indian official involved with the preparations of the meeting said.
On July 13, Aziz held a press conference in Islamabad where he referred to alleged Indian interference while sources in the Pakistani establishment also said that the dossier with "solid evidence" has already been shared with some other countries.
We would take up the alleged help being extended by India to Baloch rebels and in training those involved in recent blasts in Karachi, a Pakistani official said.
On July 10 in Russian city of Ufa, Prime Ministers Narendra Modi and Nawaz Sharif held bilateral talks and issued brief joint statement that said the two countries agreed to cooperate with each other to eliminate terrorism, expedite the trial of the 26/11 Mumbai attacks and hold a meeting of their National Security Advisors - among other steps to lessen tension.
Sharif faced a lot of flak on his return from Russia for leaving out Kashmir from the joint statement.
The mountainous mineral-rich province of Balochistan that borders Afghanistan and Iran faces a long-running insurgency where separatists are locked in a battle with the Pakistani Army.
The ministry of external affairs declined comment on the likely dossier, saying "we await the dates for the meeting".
The Aziz-Doval meeting is expected to pave the way for the two PMs meeting again — on the sidelines of the United Nations General Assembly in September.