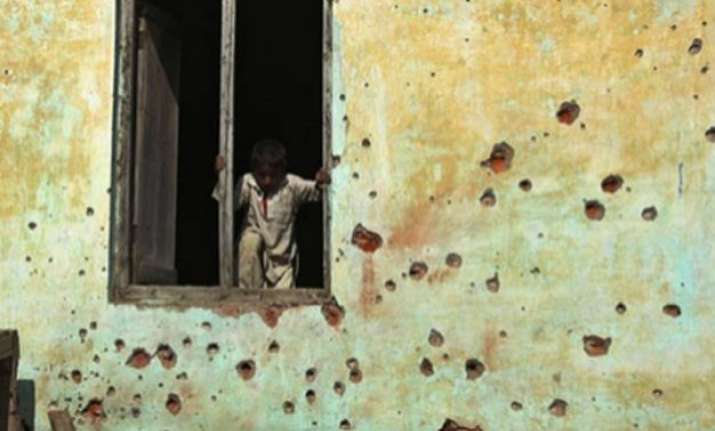 Jammu: Pakistani Rangers today indulged in heavy firing and mortar shelling on five border outposts and some villages in Jammu district which left four persons injured, a day after a woman was killed in the ceasefire violations prompting India to lodge protest with Pakistan.
BSF troops retaliated "effectively" to the Pakistani firing which came ahead of Prime Minister Narendra Modi's scheduled visit to Jammu tomorrow.  
"Pakistani Rangers resorted to small arms firing and mortar shelling along IB in R S Pura sector of Jammu district since 0115 hours today," a BSF officer said.
They targeted five border outposts (BoPs) and some civilian areas in R S Pura and Tawi forward belts, he said adding that Pakistani Rangers fired 81 mm mortar shells around 0350 hours.
"BSF troops guarding the border line retaliated effectively and the firing exchange continued till 0530 hours today," he said adding four persons were injured in Brewa village.
BSF officials said Pak Rangers have increased the arch of firing and shelling from Kanachak-Akhnoor sector to R S Pura sector now.
There have been nine ceasefire violations during July. A woman, Poli Devi, was killed and six others, including two BSF jawans, were injured yesterday in firing and mortar shelling in Jammu district by Pakistan Rangers.  
According to government sources, India lodged protest both in Islamabad as well as in Delhi over the incident.
"Our High Commissioner in Islamabad raised the issue with the Pakistan Foreign Office and Pakistan High Commissioner in Delhi was also conveyed India's concerns regarding ceasefire violation in which one woman was killed and some people injured," they said today.
On July 9, Pakistani troops fired at a forward border post in North Kashmir killing a BSF jawan, an incident that came on the eve of talks between Prime Minister Narendra Modi and his Pakistani counterpart Nawaz Sharif in Russia.  
The latest round of firing comes ahead of Modi's scheduled visit Jammu tomorrow to attend the centenary celebrations of former state Finance Minister Girdhari Lal Dogra.
Pakistan Rangers had yesterday opened 'sniper fire' on a BSF constable guarding a border outpost along the International Border (IB) in Kanachak sector of Akhnoor tehsil in Jammu district.
As BSF personnel tried to evacuate the injured jawan, they came under heavy fire from the Rangers, whereupon they took position and retaliated.
Two jawans, Anjani Kumar and YP Tiwari, were among the six persons injured in the firing, the spokesman said, adding that the exchanges were restricted to the Akhnoor-Kanachak sectors with five Border Out Posts (BoPs) on the Indian side coming under attack.
Apart from the BoPs, the Rangers targeted civilian areas with small-arms fire and shelling at Bhalwal Bharth, Malabela and Siderwan.
Three mortar shells landed deep inside Kanachak sector along the IB, they said.
In January this year, Pakistan resorted to several ceasefire violations resulting in death of four people.