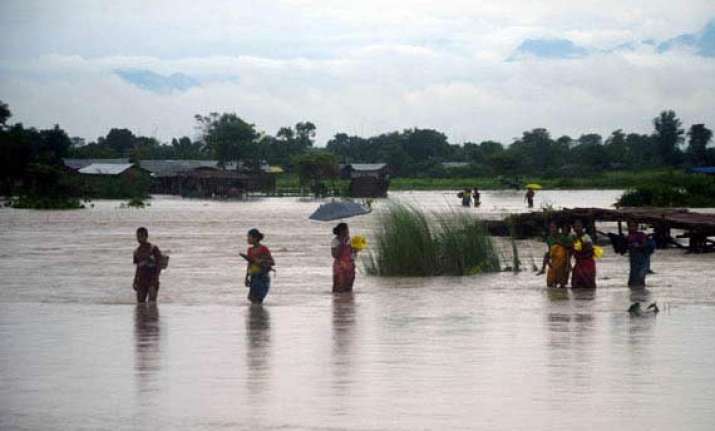 Guwahati/Majuli: The flood situation in Assam remained grave today with more than 12.65 lakh people affected in 16 districts as the toll rose to eight after a boy was washed away by the Brahmaputra.
Union Youth Welfare and Sports Minister Sarbananda Sonowal today visited severely-hit Majuli island and made an aerial survey of Dhemaji and Lakhimpur districts.
At Pomuagoan in Majuli island a 15-year-old boy Manas Protim Dutta was washed away by the strong currents of the Brahmaputra when he slipped and fell into the river when he tried to board a country boat to go to school yesterday, the police said.
As Pomuagoan remained cut-off from the rest of the island, people there were using country boats as the only means of transport, the sources said.
According to an official release, apart from the boy, seven other persons lost their lives in the current wave of flood, one each in Lakhimpur, Dhubri, Nalbari, Golaghat and Barpeta and two in Morigaon.
According to a government flood bulletin, 12,65,449 people were affected across 2,093 villages in 16 districts and 1,12,635,25 hectares of cropland damaged in the flood in the Brahmaputra.
The river was flowing above the danger level in Jorhat, Kamrup, Sonitpur, Goalpara, Dhubri, Dibrigarh, Lakhimpur, Sibsagar, Golaghat, Nagaon and Barpeta, the flood bulletin said.
The authorities have evacuated the marooned to safer places and 212 relief camps have been opened providing shelter to 1,63,052 inmates, it said.
The 16 flood-affected districts are Dhemaji, Jorhat, Dibrugarh, Golaghat, Sivasagar, Sonitpur, Lakhimpur, Nalbari, Barpeta, Bongaigaon, Morigaon, Nagaon, Kamrup, Dhubri, Kokrajhar and Karbi Anglong.
Sonowal visited Korotipar, Sonwal-Kachari, Kamalabari and Aoniati areas of Majuli island and assured the affected people that they would be resettled in safer places in the island.
Sonowal, who represents Assam in Parliament, also instructed the Deputy Commissioner of Jorhat and Subdivisional Officer (Civil) Majuli to send a report within two days to the Prime Minister on the flood situation there.
Meanwhile, Assam Chief Minister Tarun Gogoi today announced setting up of a Flood and Erosion Protection Authority with an initial funding of Rs 1,000 crore to strengthen existing river embankments and build new ones.
After paying an aerial visit to flood-affected Dhemaji, Lakhimpur and Majuli islands, Gogoi said, "The new authority will take up long term anti-erosion measures, including dredging of the tributaries of the Brahmaputra river to minimise the impact of floods and erosion."
The new body will be in addition to the already proposed Brahmaputra Valley River Authority, he said.
Gogoi, however, did not specify any timeline to set up
the authority in the state.
Assam Water Resources Minister Rajib Lochan Pegu, who also accompanied Gogoi, said the state government had already submitted a proposal to the Government of India to the tune of Rs 4,500 crore for strengthening 4,400 km of vulnerable embankments across the state.
Earlier, the Chief Minister, Pegu and senior officials made an aerial survey of Bamungaon, Sisirgaon, Duerighat, Rekha Chapori of Dhemaji district and Bihpuria, Narayanpur, Panigaon, Naobaicha of Lakhimpur district.
They also viewed the flood condition of the world's largest river island Majuli.
In Lakhimpur, seven revenue circles have been reeling under flood covering 240 villages affecting 1.14 lakh people.
"Total cropped area affected is 7,836.25 hectares. Four persons died, while one is reported to be missing. Two breaches have occurred resulting in the washing away of two bridges and 17 culverts," the release said.
In the worst-hit Dhemaji district, 3.20 lakh people have been affected in 718 villages under four revenue circles.
Total cropped area affected is 43,843 hectares. Three persons lost their lives and 69 relief camps have been opened housing 43,728 inmates, the statement said.
The Chief Minister has directed senior officials of the concerned departments and Deputy Commissioners to gear up relief and rehabilitation measures on a war-footing.
"Gogoi asked them to keep sufficient stock of medicine to prevent outbreak of water borne diseases," the statement added.
Gogoi asked the administrations to shift submerged schools to alternative places so that classes can resume immediately.