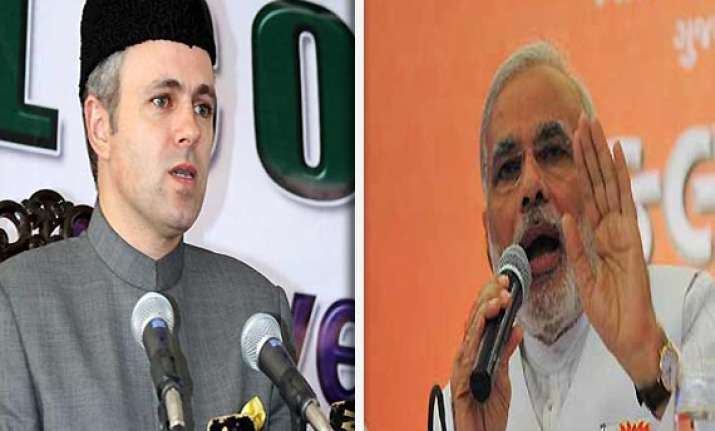 Jammu: Jammu and Kashmir chief minister Omar Abdullah has said that there was indeed a "Modi Effect" across India and "only fools will feel there is no Modi wave".
Abdullah said, Modi wave was clearly visible in two parliamentary constituencies of Jammu and Udhampur.
The chief minister said, it was the UPA which gave reasons to Modi to boost his acceptability across regions, as it failed to package and market its achievements like the Right to Food, Right to Education, Land Acquisition Bill and the lot.
Omar Abdullah's U-turn comes in the wake of his poll speeches in rajouri and Poonch, when he had claimed there was no Modi wave and it was only a NC-Congress wave in Jammu and Kashmir.
"Those who feel that there is no Modi Effect are probably living in a fool's paradise. There is most certainly the Modi Effect, which is clearly visible on the ground", Omar Abdullah told a TV interviewer on Friday.
Abdullah said: "Definitely and safely, I can say that there is Modi wave visible. Those who deny are probably living in a fool's paradise. There is huge Modi undercurrent. By design, the BJP has polarized electorates to a great extent.
"Even in Jammu region, there is  a clearcut attempt to divide pro-Modi Hindus and anti-Modi Muslims. I dare say there is very strong RSS-driven ground campaign to divide voters on Hindu, Muslim lines."
Omar Abdullah alleged a loudspeaker-fitted vehicles were sent to Katra, near Mata Vaishno Devi shrine, to announce how people can vote for a Muslim candidate (Ghulam Nabi Azad) when a Hindu candidate was in the fray.