Follow us on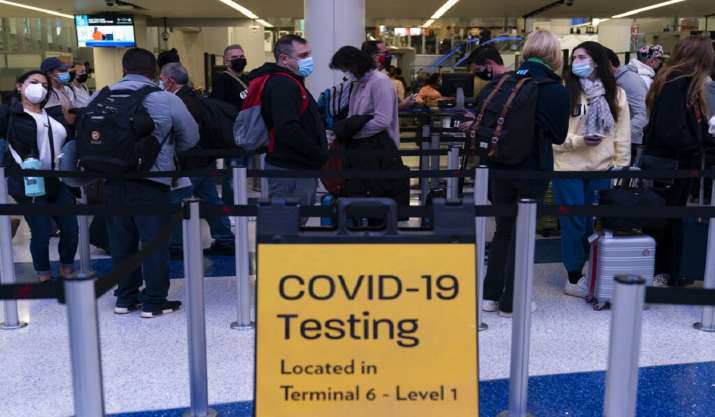 Highlights
Centre revises guidelines for international passengers arriving in India
Centre makes submitting 14 days travel details, uploading negative RT-PCR test report mandatory
Health Ministry shares a list of "high risk" countries and additional measures for the travellers
Union Health Ministry on Sunday revised guidelines for international arrivals in India which will come into the effect from December 1 in view of the threat of the new coronavirus variant Omicron. Under the revised guidelines, the Centre makes it mandatory for international passengers entering India to submit 14-days travel details and upload negative RT-PCR test report on the Air Suvidha portal before the journey. This test should have been conducted within 72 hours prior to undertaking the journey.
As per Health Ministry's guidelines, travellers from 'countries at-risk' will need to take the COVID test post-arrival & wait for results at the airport. If tested negative they'll follow, home quarantine for 7 days. Re-test on 8th day & if negative, further self-monitor for next 7 days.
"Travellers from countries excluding those 'countries at risk' will be allowed to leave the airport and shall self-monitor health for 14 days' post-arrival. A sub-section (5% of total flight passengers) shall undergo post-arrival testing at random at the airport on arrival," the guidelines state.
The countries (at risk updated as on November 26, 2021) from where travellers would need to follow additional measures on arrival in India include European countries, the UK, South Africa, Brazil, Bangladesh, Botswana, China, Mauritius, New Zealand, Zimbabwe, Singapore, Hong Kong and Israel.
According to the revised guidelines, before boarding passengers originating from or transiting through at-risk countries shall be informed by the airlines that they will undergo post-arrival testing, quarantine if tested negative, stringent isolation protocols if tested positive, etc.
Do's and Don'ts shall be provided along with ticket to the travelers by the airlines/agencies concerned and airlines will allow boarding of only those passengers who have filled in the self-declaration form on the Air Suvidha portal and uploaded the negative RT-PCR test report.
International travellers arriving through seaports/land ports will also have to undergo the same protocol, except that facility for online registration is not available for such passengers currently.
Children under five years of age remain exempted from both pre- and post-arrival testing. However, if found symptomatic for COVID-19 on arrival or during home quarantine period, they shall undergo testing and treated as per laid down protocol.
Health Ministry also shared a list of "high risk" countries from where travellers would need to follow additional measures on arrival in India, including post-arrival testing (Countries at-risk).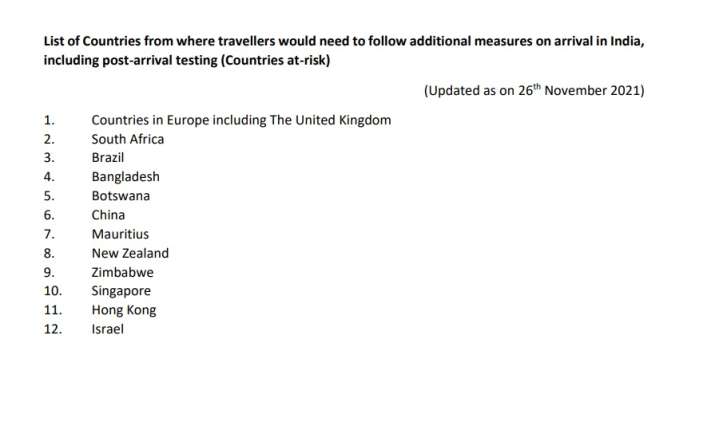 Complete guidelines for international arrivals in India:
At least 15 days must have elapsed since the completion of the Covid-19 vaccination schedule.
If travellers are fully vaccinated and coming from a country with which India has reciprocal arrangements for mutual acceptance of WHO approved Covid-19 vaccines, they shall be allowed to leave the airport and need not undergo home quarantine. However, they shall self-monitor their health for 14 days post-arrival.
For travellers who are partially or not vaccinated, they will need to submit a sample for post-arrival Covid-19 test at the point of arrival after which they will be allowed to leave the airport. Other measures they will need to adhere to include home quarantine for seven days, re-test on the eighth day of arrival in India and if negative, further self-monitor of their health for the next seven days.
Travellers under home quarantine or self-health monitoring, if develop signs and symptoms suggestive of Covid-19 or test positive for Covid-19 on re-testing, they will immediately self isolate and report to their nearest health facility or call national helpline number 1075 or state helpline number.
It is mandatory to ensure physical distancing and thermal screening during deboarding on arrival.
The self-declaration form filled online shall be shown to the airport health staff.
The passengers found to be symptomatic during screening shall be immediately isolated and taken to a medical facility according to health protocol. If tested positive, their contacts shall be identified and managed according to laid down protocol.
Contacts of the suspect case are the co-passengers seated in the same row, three rows in front and three rows behind along with identified cabin crew.
Also, all the community contacts of those travellers who have tested positive (during home quarantine period) would be subjected to quarantine for 14 days and tested as per ICMR protocol , the guidelines stated.
Centre to review the resumption of international flights
Meanwhile, the Centre on Sunday decided to review the resumption of international flights and issued a slew of directions to the states for ramping up testing-surveillance measures and health facilities, as concerns mounted over the spread of potentially more contagious coronavirus variant Omicron to many countries.
After a long hiatus of more than 20 months, the government had on November 26 announced the resumption of scheduled international commercial flights from December 15.
"Government to review Standard Operating Procedure on testing and surveillance of incoming international passengers, especially for those countries identified 'at risk' category," an official spokesperson said after an urgent meeting chaired by Union Home Secretary Ajay Bhalla and attended by various stakeholders.
No cases of the variant, which was first reported to the World Health Organisation (WHO) from South Africa on November 24, have been recorded in India. However, two South African returnees to Bengaluru, who tested positive for COVID-19. Although they were found to be infected with the delta variant, a Karnataka official said on Sunday.
India, which battled the deadly second wave blamed on the Delta variant in April-May, faces the Omicron challenge after easing curbs to a large extent following an improvement in the situation.
ALSO READ | ​Omicron variant scare: Follow Covid protocols to avoid another 'lockdown', says Maharashtra CM