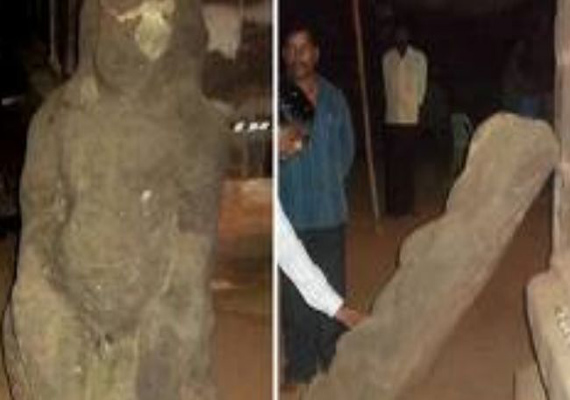 Hyderabad, Feb 21 : Archaeologists have unearthed the earliest perception of Mother Goddess carved in sandstone rock in an Indian temple in the state of Andhra Pradesh.

The sculpture which is the earliest perception of idolizing woman as Goddess dates back to the Ashoka period, third century BCE, and was found around the Sri Chalukya Kumara Bheemeswara Swamy temple at Samarlakota.

The team found the unique image of a seated mother goddess (Yakshini) in a remote corner outside the temple, explained Archaeological Survey of India's Superintending Archaeologist R. Krishnaiah.

"From the archaeological research point of view, the 'mother goddess' image was a rare discovery," said Krishnaiah.

The discovery is vital for reconstructing the cultural life of ancient Andhra, the origin and evolution of early cultural art, he added.

The sculpture is 150 cm tall, 67 cm wide and 28 cm thick and is the first of kind found in the entire South India..

"Her facial physiognomic feature is roundish, dignified with chubby cheeks, wide open eyes, a broad heavy nose, and close cut tender pair of lips," explained archeologist Babu.

"She is potbellied, her arms and wrists are embellished with a series of big bangles and she is wearing earrings. The head is covered with a beautiful head-dress," he added.

Mother goddess or Mother Earth refers to a goddess who embodies the bounty of the Earth representing motherhood, fertility and creation.