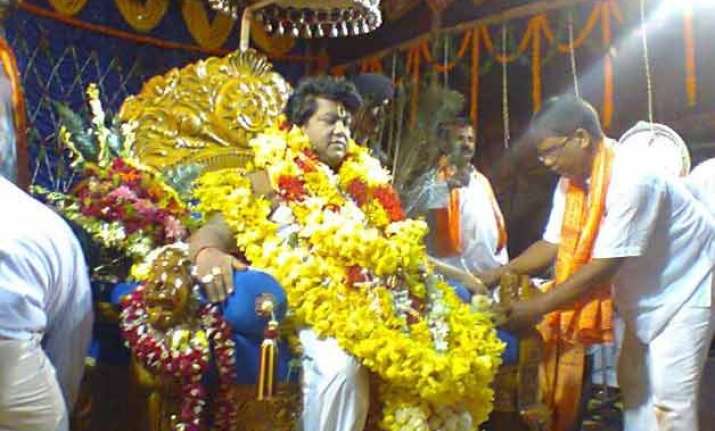 Bhubaneswar: As skeletons come tumbling out of the fake godman Sarathi Baba's cupboard, Crime Branch officials are zeroing in on a powerful contractor of Kendrapara, who had been the main figure behind the sudden rise of the fake godman.
Nearly 25 years ago, a small thatched hut came up at Barimool near Kendrapara, but within four years, it was transformed into Sarathi Mandir. Nearly Rs 20 crores were spent in building the expensive Sarathi Trust ashram, fitted with costly furniture and branded sanitary fixtures.
How did this huge empire came about? Who was the main patron behind the sudden rise of Sarathi Baba? The man in question is a millionaire contractor of Kendrapara town.
Behind the facade of Sarathi Baba, this contractor had spread his octopus-like tentacles in the spheres of real estate, government contracts, chit funds, and even crime.
The man had easy access to BJD ministers, MLAs and senior bureaucrats.  In 2000, he had hardly any money to buy a motorbike, but now he owns properties worth Rs 100 crores.
He was allegedly involved in the murder of a contractor Pradeep in 2005 resulting in violence which led to enforcement of curfew for 15 days in Kendrapara. The man was also allegedly involved in the notorious Suleiman murder case. The Crime Branch had then interrogated several persons, but did not touch this man, who used to freely travel in his Sumo vehicle. By then, Sarathi Baba had access to the corridors of power, and he was protecting his patron.
This contractor was a regular at Sarathi Baba's events which used to be attended by BJD ministers, MLAs and bureaucrats. He used to bag lucrative river embankment contracts in Kendrapara district. He had recently bagged Rs 25 crore worth embankment fortification work in Patkura. The man had easy access to senior officials of Irrigation, Water Resources and embankment departments, so much so that he used to decide which engineers were to be posted.
Any new engineer posted in irrigation or embankment departments first used to visit the contractor to seek his blessings. The man used to put "Srimad Sarathi" sticker on his vehicles.
The contractor's brother runs an English-medium school in Kendrapara. The man is now presently busy contacting senior counsels to get bail for Sarathi Baba from courts.