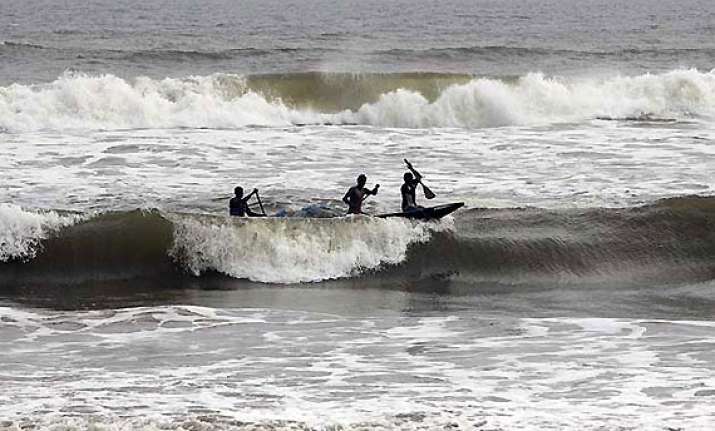 Bhubaneswar: The cyclone threat is now looming large over Andhra Pradesh and Odisha as heavy rains hit both the states on Thursday. 
According to reports, cyclone Phailin is heading towards coastal Odisha at an alarming speed of 200 km/hour and is likely to make a landfall by Saturday evening.
The severe cyclonic storm 'Phailin' over the Bay of Bengal has gained strength, and intensified further as it moved towards Odisha and Andhra Pradesh coast.
The storm over east central Bay of Bengal moved westwards, slightly intensified further and lay centred about 590 km south-southeast of Paradip in Jagatsinghpur district and 600 km southeast of Gopalpur in Ganjam district.
It would move northwestwards and cross north Andhra Pradesh and Odisha coast between Kalingapatnam and Paradip, close to Gopalpur (Odisha) by Saturday evening as a very severe cyclonic storm with a maximum sustained wind speed of 205-215 kmph, he said.
The state government said it was making adequate preparation to deal with the disaster that expects to cause large scale devastations mostly in state's coastal southern districts.
While more than 5,000 families from the low lying area of the beach town of Puri have already been moved to safer places, the authorities plan to move more than 30,000 others later in the day.
In Ganjam district, which is expected to be worst hit as the cyclone is likely to make land fall near its Gopalpur town, the authorities have started preparation to move at least 100,000 families from the low lying area to safer places like cyclone shelters, school buildings and other buildings.