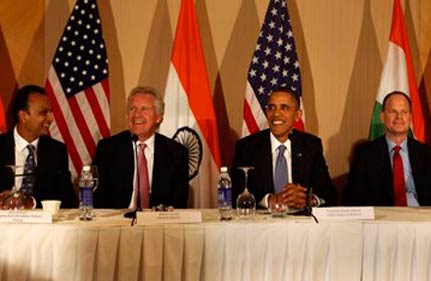 Mumbai, Nov 6 (PTI) US President Barack Obama today charmed the India Inc by punctuating his 25-minute speech with some well known Hindi expressions and warm handshakes with a few leading lights sitting in front rows.
'Namaste...Saal Mubarak...Diyas (Dipawali lights)... Diwali... Mumbaikars and Dharavi" were some of the expressions and words that Obama used in his interaction with a select group of leading industrialists.
On the first-day of Obama's three-day visit to the country, deals worth USD 10 billion (about Rs 45,000 crore) were signed and much more are in the pipeline.
His 25-minute speech to the CEOs was applauded several times as he talked about creating trade opportunities between the two nations -- for large businessmen to small shop owners in the bylanes of Dharavi (Asia's largest slum colony in Mumbai).
The US President made a strong statement by staying in Taj Mumbai and addressed businessmen at Hotel Trident. Both these hotels were targets of terror attacks on 26/11 in 2008.
Obama, who is leading a large delegation of 200 American businessmen, recalled how last year he became the first US President to celebrate Diwali last year at the White House.
Although the US President did not take any questions from audience after his address, he did shake hands with industrialists sitting in the front rows.
Before he began his speech, the US President named Indian Ministers, including Anand Sharma and Salman Khurshid, and Planning Commission Deputy chairman Montek Singh Ahluwalia.
Obama, however, did not name Maharashtra Chief Minister Ashok Chavan, who earlier in the day received him and his wife Michelle at the airport.
Although the functions went off well, Indian media had a harrowing time as about 35-member press corp were made to sit for four hours ahead of the President's address.
The paranoid security persons escorted journalists to washrooms and back.